Oats ladoo recipe – a healthy ladoo recipe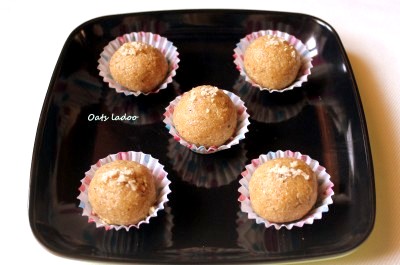 Oats ladoo is a very delicious and healthy sweet dish which is made from oats, coconut, jaggery and garnished with nuts. Oats is high in fibre and having oats regularly helps to lower cholesterol levels and jaggery is full of iron content. Oats ladoo is very easy and quick to prepare too and an easy option for sweet cravings. Do try this yummy and healthy sweet and now for the recipe….If you are looking for oats recipes, you can try
Ingredients
Quick cooking oats - 1 cup
Freshly grated coconut - 1 cup
Powdered jaggery - 3/4 cup
Ghee - 2 tablespoons
Dry nuts powder - 2 tablespoons (almonds and cashewnuts)
Cardamom powder - 1/4 teaspoon
Method
Step 1
HOW TO MAKE OATS LADOO RECIPE Take a pan. Dry roast the oats for 2-3 minutes till it changes to light brown. Powder them in a mixer to a fine powder and keep it aside.
Step 2
Also powder the almonds and cashewnuts to a fine powder in the mixer and set aside.
Step 3
Heat a pan on a low flame. Add powdered jaggery to the pan and 2 tablespoons of water.
Step 4
Once the jaggery is melted completely, add grated coconut and keep stirring on a low flame, till the coconut is fully absorbed by the jaggery and combined together. The mixture starts to leave the sides of the pan and will tend to become little thick consistency. Switch off the flame.
Step 5
Now add roasted oats powder, cardamom powder and nuts powder and mix well. Allow it to cool down.
Step 6
Once the oats mixture is still warm, grease your palms with ghee and shape the ladoos into sizes as desired by you.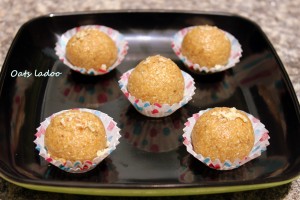 Step 7
Delicious and healthy oats ladoos are ready to be served. It can be stored in an airtight container for upto a week.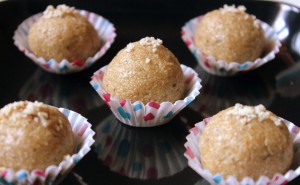 Step 8
NOTES: If you are not able to bind the mixture or if the mixture is too dry, add little ghee and then start making ladoos. You can also add walnuts to the dry nuts powder.