Oats kheer with jaggery recipe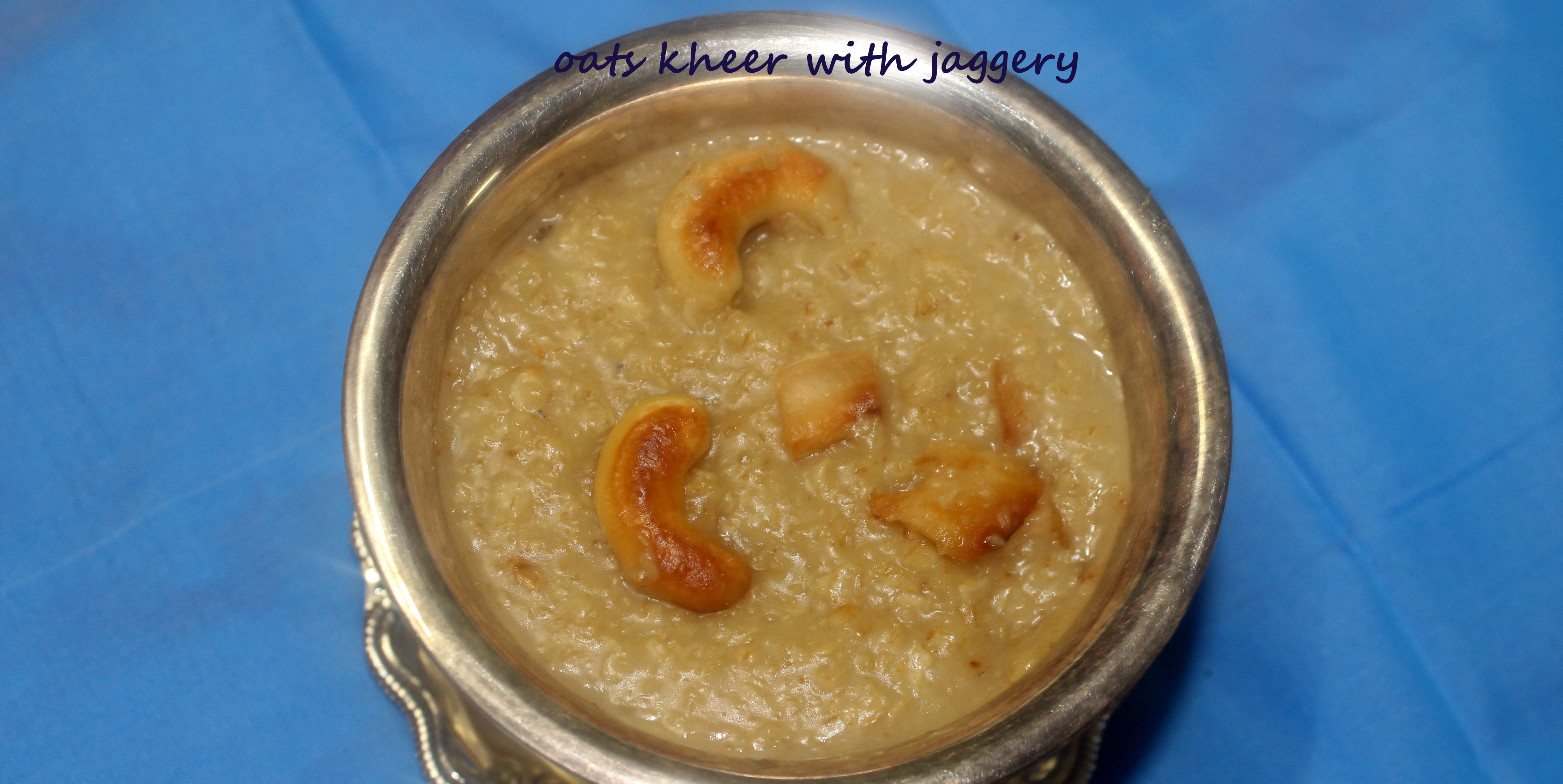 Oats kheer or oats payasam with jaggery is a very delicious and healthy kheer made with oats, jaggery and coconut milk and garnished with nuts. It can be prepared quickly and coconut milk added it to gives a rich taste to the kheer. This kheer is nutritious too due to iron rich jaggery used and oats which is a good source of dietary fibre.
Ingredients
Quick cooking oats - 1 cup
Grated or powdered Jaggery - 1 cup
Thin coconut milk - 1 cup
Thick coconut milk - 1 cup
Milk - 1 cup
Cardamom powder - 1/4 teaspoon
Cashew nuts - 2 tablespoons
Coconut bits - 1 tablespoon
Ghee - 2 tablespoons
Method
Step 1
HOW TO MAKE OATS KHEER OR PAYASAM WITH JAGGERY RECIPE Heat a pan and roast oats on a medium flame for 5-6 minutes.
Step 2
Add the milk and thin coconut milk to the roasted oats. Cook on a medium flame till the oats are cooked and reaches a thick consistency.
Step 3
Once the oats are cooked, add powdered jaggery and mix well. Cook on a low flame for another 7-8 minutes till the jaggery is melted and is fully blended with the oats.
Step 4
Once the kheer thickens, add thick coconut milk and combine together. Add cardamom powder. Stir gently for a minute and switch off the flame
Step 5
Heat ghee in a pan and roast the cashew nuts and coconut bits to light brown and add to the kheer.
Step 6
Oats kheer or payasam is ready to be served. It tastes good warm as well as chilled.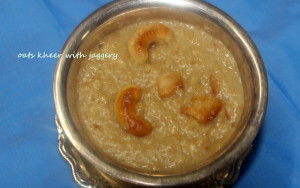 Step 7
NOTES : You can adjust the jaggery according to the sweet taste required by you. After adding thick coconut milk, do not cook for a long time. Kheer tends to thicken once cooled down. So you can adjust the consistency accordingly by adding little milk just before serving.