Kara kadubu recipe – How to make kara kadubu (steamed spicy dumplings) recipe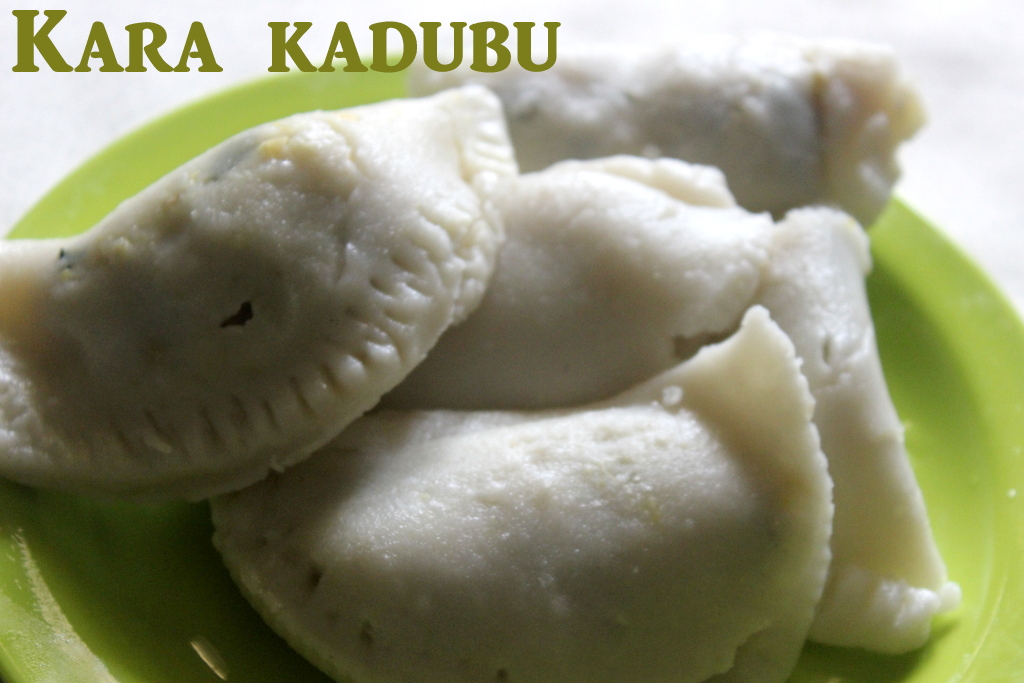 Kara kadubu is a healthy, tasty and spicy steamed rice dumplings prepared during Ganesh Chaturthi festival.  This dish is made with rice flour, chana dal, coconut and spices.  Kara kadubu is also had as a breakfast dish or as an evening snack in some parts of  Karnataka.  Filling is also made with urad dal instead of chana dal and spices added to it gives a nice flavour to the dish.  It is nutritious too, because it is protein-rich and steamed and not fried.
Other Ganesh Chaturthi recipes :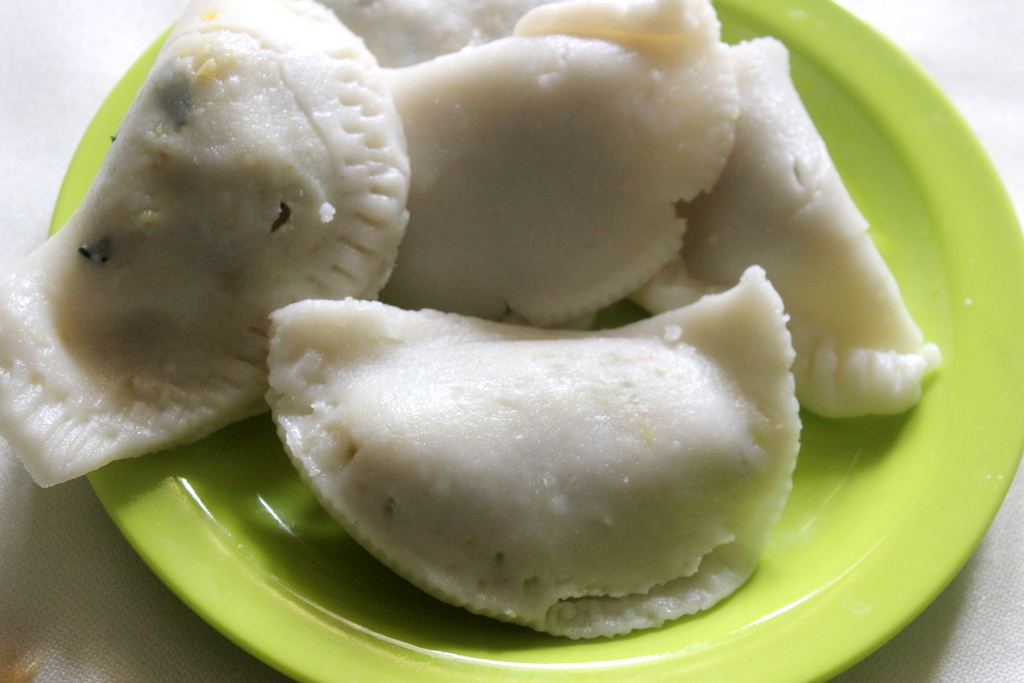 Prep Time : 20  mins plus 1 hour of soaking time
Cook Time : 12  mins
Servings : 2-3 persons
South Indian cuisine
INGREDIENTS
FOR THE OUTER COVERING
Rice flour – 1 cup
Water – 1.5 cups
Oil or ghee – 1 teaspoon
A pinch of salt
FOR THE STUFFING
Chana dal or Bengal gram – 1/2 cup (to grind)
Grated coconut – 1/4 cup
Green chillies – 2 (to grind)
Ginger – 1 inch sized cut into small pieces or grated (to grind)
Chopped coriander leaves – 2 tablespoons
Turmeric powder -1/4 teaspoon
Salt to taste
FOR SEASONING
Oil – 1 tablespoon
Mustard seeds – 1/2 teaspoon
A pinch of asafoetida
Few curry leaves
HOW TO MAKE OR PREPARE KARA KADUBU RECIPE
Soak the chana dal with sufficient water for 1 hour.  Then drain the water completely.  Grind the soaked and drained chana dal, green chillies and ginger to a nice coarse paste.
Do not add water while grinding the mixture.  Collect the ground mixture to a wide mixing bowl.
Add coconut, turmeric powder, chopped coriander leaves and salt.  Mix well.  Set aside.
To prepare the outer covering, heat 1.5 cups of water.  Add 1 teaspoon of oil and a pinch of salt to it.  Once the water comes to a nice boil, lower the flame and add the rice flour to it.   Mix the flour well with the water.
Give a nice and quick stir and ensure no lumps are formed.  Switch off the flame.  Cover the vessel with a lid and let it stand for 10-15 minutes.
When the mixture is still lightly warm,  knead it to a smooth dough.  Divide the dough into equal medium sized balls.
Heat 1 tablespoon of oil on medium flame, add mustard seeds and asafoetida.  Once the seeds stops spluttering, add curry leaves and saute for few seconds.  Switch off the flame.  Add the ground mixture  to the seasoning and mix well.  The stuffing is now ready to be used.
Roll one small-sized ball of dough into a round shape.  Take a kadubu mould and smear oil on both the sides of the mould.
Place the rolled dough into the mould.  Fill the dal mixture into it and close the mould firmly.
Remove the excess dough from all the sides of the mould.  Now arrange all the kadubus in an idli plate or a plain plate.
Steam cook it for 10-12 minutes in a steamer or a pressure cooker without the lid.  Once cooled down, gently remove them with the help of a spoon and transfer the kadubus to a serving plate.  Khara kadubus are now ready to be served.
Serve kara kadubus along with chutney or ghee or as it is.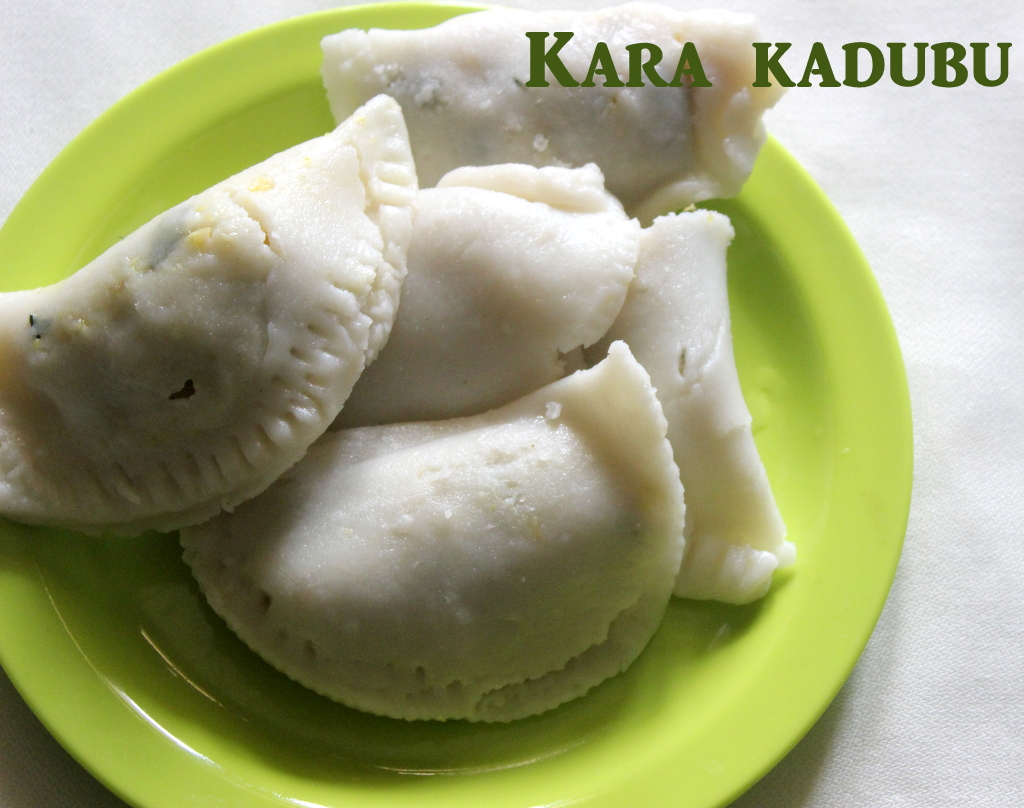 NOTES/TIPS
You can use little maida while making the dough to avoid breaking.
Excess dough can be used for making sweet kadubu or modaks.
Arrange kadubus before steaming in a such a manner, that it does not stick to each other.
If you do have the mould,  place the stuffing in the centre of the round shaped dough and seal the edges from all the sides.