Dry fruits ladoo recipe -How to make dry fruits laddu recipe – no sugar quick ladoo recipe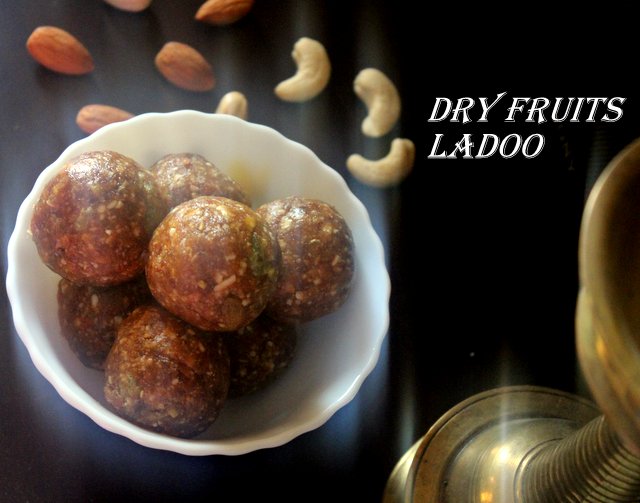 Dry fruits ladoo is a no sugar, no jaggery ladoo recipe made with dates, ghee and mixed nuts.  The sweetness to this ladoo comes from the dates and moreover it is very healthy too.  Dry fruits ladoos are traditionally prepared during festival days like Diwali, Janmashtami or Shivratri.  It is an ideal dish which can be had during fasting days as it is very filling and nutritious.  As dry fruits are rich in nutrients and fat free, it is ideal for calorie conscious people too.  This ladoo can be prepared in less than 30 minutes.  Dry fruits ladoo can be had as an evening snack or as an anytime energy snack..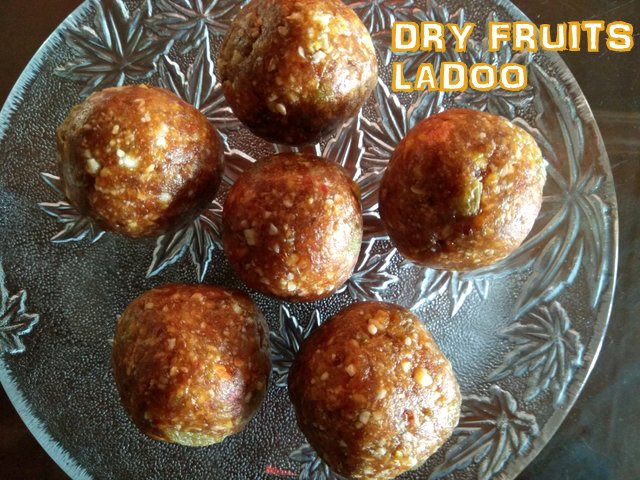 Prep Time : 15 mins
Cook Time :  10 mins
Yield:  7 ladoos
Indian cuisine
INGREDIENTS
Seedless dates/khajoor – 1 cup
Almonds/badam – 1/4 cup
Cashewnuts/kaju – 1/4 cup
Pistachios – 1/4 cup
Raisins – 2 tablespoons
White sesame seeds – 1/2 teaspoon (optional)
Ghee – 1 tablespoon
Cardamom powder – 1/2 teaspoon
HOW TO MAKE OR PREPARE DRY FRUITS LADOO RECIPE
Take a cup of dates.  Remove the seeds from the dates. (To save time, you can use the seedless dates).  Keep all the ingredients ready in a plate – seedless dates, cashewnuts, pistachios, raisins, almonds and sesame seeds.
Take a small grinder and add the almonds, cashewnuts, raisins and pistachios.  Grind these ingredients coarsely.  Take care not to grind them too fine or powder them as it will not give the crunchy bites.  Remove them in a plate.
Now add the deseeded dates and blend them to a coarse paste.
Heat a non-stick pan on medium flame and add 1 tablespoon of ghee.  Once the ghee is melted, add the blended dates and saute on low flame for 2 minutes.
Then add the coarsely powdered cashewnuts, almonds, pistachios and raisins.  Add the white sesame seeds.  Fry on low flame for 2-3 minutes.
Add the cardamom powder and mix well.  Switch off the flame.  Remove the mixture into a bowl and allow it to cool down.
When the mixture is still lightly warm,  shape them into ladoos of desired sizes.  Store these ladoos in an airtight container.  Enjoy the delicious and nutritious dry fruits laddo guiltfree as an evening snack or as an anytime snack.
NOTES/TIPS
You can also add dry coconut pieces or any nuts  of your choice.
If you want the ladoos more sweet, increase the quantity of dates.
Do not powder the nuts.  Just blend them coarsely to get that crunchy taste.
Proportions of the dry fruits can vary according to your taste and preference.
Dry fruits ladoos stay good for 3-4 days at room temperature or in a refrigerator for upto a  week.