Whole wheat with jaggery cake recipe – eggless cake recipes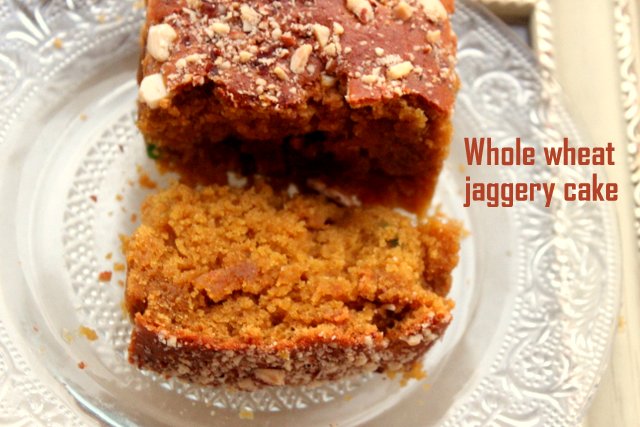 Whole wheat jaggery cake is a easy and healthy cake recipe made with wheat flour, jaggery, milk and nuts.  It is also a eggless cake as it is made without using eggs.  Here you can adjust the jaggery as per your desired taste.  This cake is an ideal teatime snack and kids too can have it, as it nutritious too. Wheat cake is simple to make and can be made with very  simple ingredients available in our kitchen.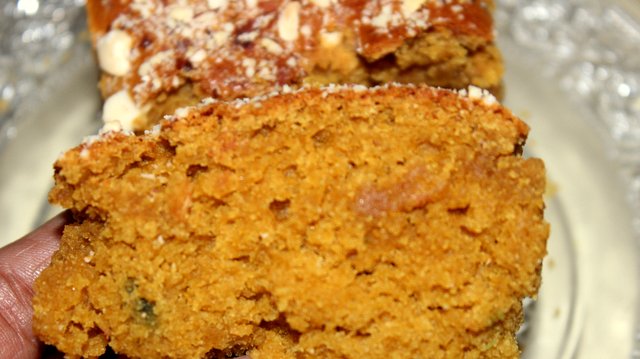 Prep Time :  15 mins
Cook Time : 30 to 40  mins (baking time)
Servings :  3 to 4 persons
Indian cuisine 
INGREDIENTS
Whole wheat flour – 1 cup
Powdered jaggery – 1 cup
Milk – 1 cup
Baking powder – 1/4 teaspoon
Baking soda – 1/4 teaspoon
Vanilla essence – 1/2 teaspoon
A pinch of salt
Butter – 1/4 cup
Broken nuts (cashewnuts and badam) – 1/3 cup
Tutti frutti – 2 tablespoons (optional)
HOW TO MAKE OR PREPARE WHOLE WHEAT WITH JAGGERY CAKE RECIPE
Grease the cake tin with little oil or butter and dust little flour evenly on all the sides.  Keep it aside.
Take a bowl and add the wheat flour, baking powder, baking soda and salt into it. (Sieve all the ingredients before adding to the bowl). Keep it aside.  In another bowl, take powdered jaggery and butter.
Microwave high at 100 percent for 1 minute.  ((Alternatively you can melt on a gas stove on a low flame.  Do not overboil).  Once the jaggery and butter is well dissolved,  stir well with a hand whisker.
Add milk and stir well again.
To these,  now add the dry ingredients–(wheat flour, baking soda, baking powder and salt mixture).  Mix again.  Add the tutti frutti.
Bind all the ingredients gently with a spoon.  Ensure there are no lumps in the batter.  Pour this batter into  the cake tin.  Tap the cake tin gently to ensure the batter is leveled out.
Sprinkle the nuts on top of the batter.  Preheat the oven at 180 degree celcius for 5 minutes.  Then place the cake tin in the pre-heated oven and bake for 35-40 minutes or till a knife pierced in comes out clean.
Remove the cake from the oven.  Let it cool down for 10 minutes in the pan.  Run a butter knife on the edges of the pan to loosen the sides.  Invert the tin over a plate or a wiring rack and lightly tap on the cake pan.  Let the cake cool down completely.
Cut the cake into slices and enjoy with a hot cup of tea or coffee.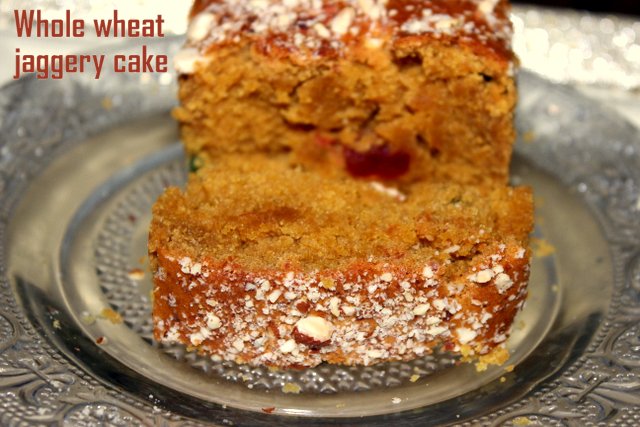 NOTES/TIPS
You can use sunflower oil or olive oil or any cooking oil instead of butter.
Do not overbeat the mixture, else the cake becomes very heavy.
Add your own choice of dry fruits to the batter.
Baking time varies with different ovens.    Hence bake it accordingly.
Always check the cake with a toothpick.  If the toothpick  comes out clean, then the cake is ready.