Dry fruits milkshake recipe – How to make dry fruits milkshake recipe – healthy drinks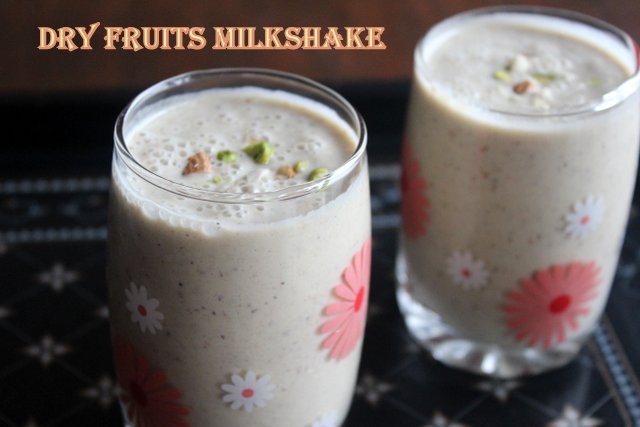 Dry fruits milkshake is a nutritious beverage made with dry fruits, which provides instant energy to the body.  This milkshake is not only healthy but also very filling and ideal for occasions like vrat or fasting days when your energy levels are low.  The richness of this milkshake comes from the various dry fruits added to it like  almonds, pistachios, cashewnuts and raisins.  Dry fruits milkshake is very easy to prepare and prepared with the ingredients available at home.  You just have to add milk and sugar/honey and make this delicious healthy beverage.
Dry fruits milkshake is an ideal drink for kids as well as adults looking for energy drinks. Do try this refreshing beverage and enjoy!!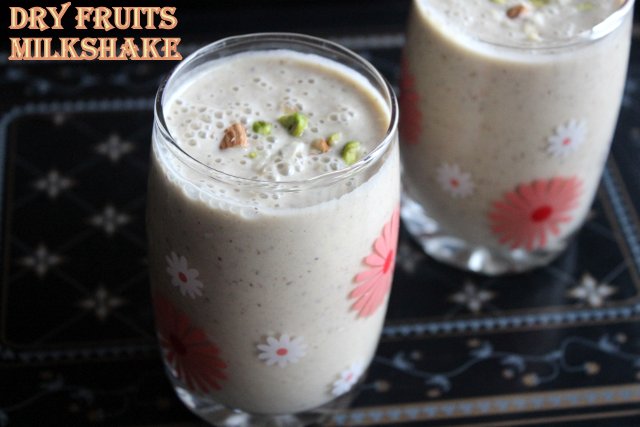 Prep Time :  10 mins
Cook Time :  10 mins
Servings : 2  persons
Indian cuisine
INGREDIENTS
Seedless dates  – 5 to 6
Unsalted pistachios – 1/4 cup
Badam or almonds – 1/4 cup
Raisins – 1/4 cup
Cashew nuts – 1/4 cup
Milk – 3 cups
Few chopped dry fruits for garnishing
HOW TO MAKE OR PREPARE DRY FRUITS MILKSHAKE RECIPE
Soak badam, cashewnuts, raisins and pistachios in enough water for an hour.  I have taken one cup of all the dry fruits together, except the dates.
After one hour, drain the water and take the soaked dry fruits to a mixer grinder or blender.
Add half cup of milk and blend to a semi fine paste or fine paste as desired by you.
Add the rest of the milk and blend again.  Here you can add honey or sugar if you want.  Otherwise, dates gives the sweetness to the milkshake.  Pour in glasses and serve the dry fruits milkshake chilled garnished with chopped nuts.
Healthy and refreshing dry fruits milkshake is ready to be served.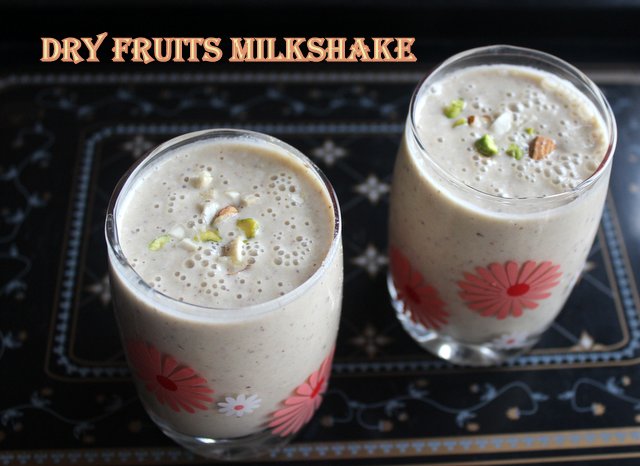 NOTES/TIPS
You can also add figs and walnuts for this milkshake.
You can skip sugar and add honey for the sweetness and a more healthy milkshake.
Add a pinch of saffron in this milkshake for enhancing the taste.
You can add almond milk or soy milk instead of regular milk.
Serve the milkshake immediately topped with some chopped nuts.
Add only few raisins, as sometimes it tends to curdle the milk.  Use only chilled milk for making the milkshake.