Eggless whole wheat carrot muffins recipe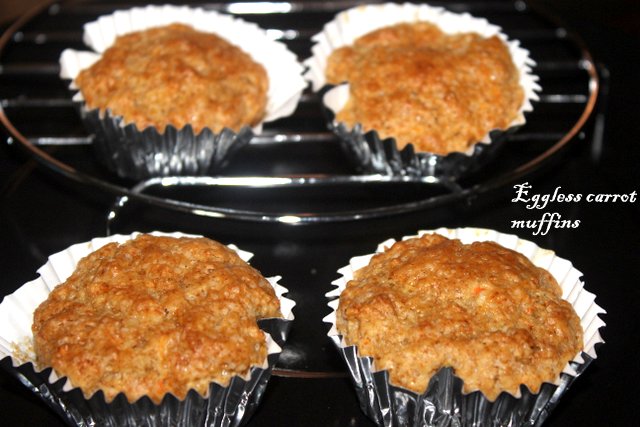 Eggless whole wheat carrot muffins is a very tasty and healthy recipe with no eggs and maida added to it.  It is prepared from whole wheat flour, sugar, milk, carrots, curd and oil.  Eggless carrot muffins is very quick and easy to make too and can be had as a guilt free snack as no butter is added.  These are soft, moist, healthy and delicious muffins that you can bake for your family and enjoy.  Do try this recipe….
Prep Time : 20 mins
Cook Time : 20 mins
Yield : 8-10 pieces
Total time – 40 mins
INGREDIENTS
Whole wheat flour/atta – 1 cup
Grated carrot – 1/2 cup
Sugar – 1/2 cup
Curd – 3/4 cup
Oil – 1/4 cup
Baking powder – 1/2 teaspoon
Baking soda – 1/2 teaspoon
Vanilla essence – 1/4 teaspoon
A pinch of salt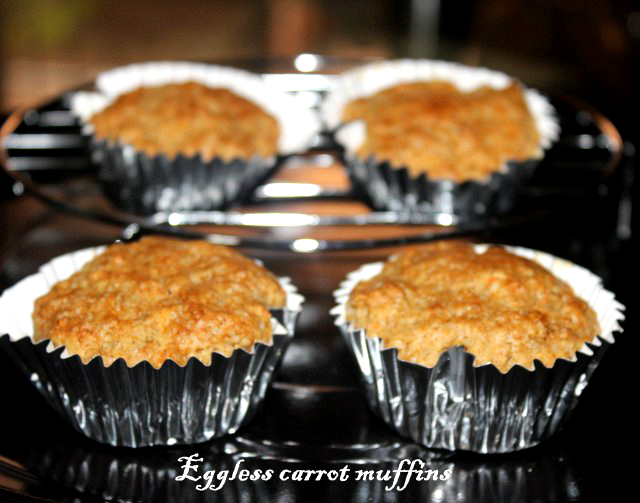 HOW TO MAKE EGGLESS CARROT MUFFINS
Wash, peel and grate the carrrots and keep it aside. Preheat the oven to 180 degrees C.    Line a muffin tray with muffin liners.
Sieve the wheat flour, baking powder, baking soda and salt in a bowl.  This helps in even mixing. Take a mixing bowl.  Add curd and oil to it and whisk well until combined.
Add sugar and vanilla essence and mix till well dissolved.  Then add sifted flour mixture and grated carrot mixture and mix again.  Gently mix the batter.  Do not over mix the batter.
Spoon equal amount of batter into the muffin moulds upto 3/4th of it.
Bake for 18-20 minutes or until a skewer comes out clean.  Cool for 5 minutes in the pan and then remove them to a cooling rack.
Soft, healthy and delicious eggless whole wheat carrot muffins are now ready to be served
NOTES/TIPS
Do not overmix the batter.
You can add a handful of raisins or walnuts to the batter for more enhanced taste.
You can use brown sugar instead of white sugar to make it more healthy.
Bake the batter immediately once it is ready.