Gujarati dal recipe – how to make gujarathi dal recipe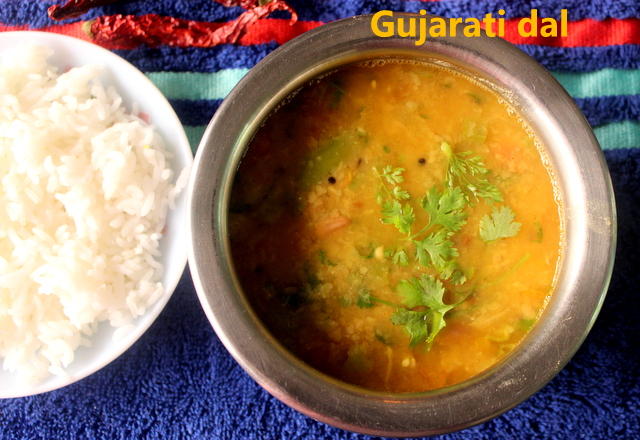 Gujarati dal – a simple, delicious and sweet n sour dal recipe prepared with toor dal, jaggery, peanuts, ginger and mild spices is a very comforting dal which goes very well with rice.  Tomatoes added to it gives a tangy and sour taste and jaggery gives the sweet taste.  Instead of tomatoes you can also use kokam.
This Gujarathi dal is a no onion no garlic recipe and is little thin in consistency and best served with steamed rice or jeera rice.  Tempering or seasoning with ghee gives a good flavour to the dal.   The ideal balance of sweet and  sour taste is required for the success of this recipe.  A healthy and comforting dal, this dal is a staple food in all Gujarati homes.  Do try this dal for a break from the routine and enjoy with steamed rice or jeera rice.
If you are looking for dal recipes, you can try  these dal recipes in my blog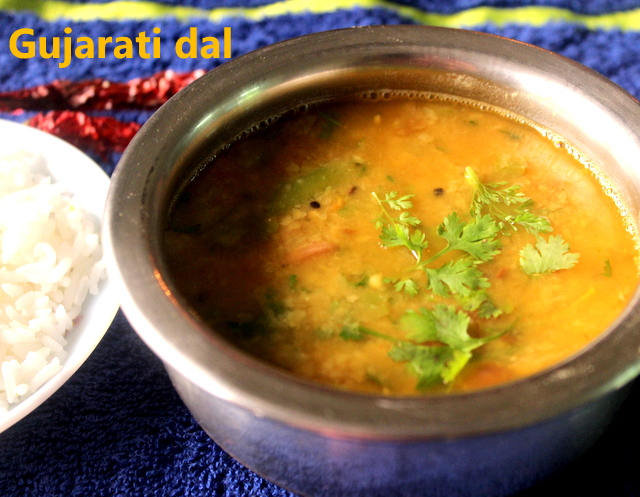 Prep Time :  20 mins
Cook Time : 20 mins
Servings :  2-3  persons
Indian cuisine
INGREDIENTS
Tur dal or tuvar dal (pigeon peas) – 3/4 cup
Ghee or oil – 3 tablespoons
A pinch of asafoetida or hing
Mustard seeds or rai -1/2 teaspoon
Cumin seeds or jeera – 1/2 teaspoon
Fenugreek seeds or methi dana – 1/4 teaspoon
Green chillies – 3 ( chopped finely)
Ginger or adrak – 1 inch sized (chopped finely or grated)
Tomato – 1 (medium sized chopped finely)
Peanuts – 1/4 cup
Red chilli powder – 1/2 teaspoon
Turmeric powder – 1/4 teaspoon
Grated or powdered jaggery – 2 tablespoons
Chopped coriander leaves for garnishing
Salt to taste
HOW TO MAKE OR PREPARE GUJARATI DAL RECIPE
Wash and soak the toor dal for half an hour. Add turmeric powder to it and pressure cook the toor dal and peanuts with sufficient water,  for upto 4 whistles or till cooked.  (Keep the peanuts in a separate vessel and pressure cook both toor dal and peanuts simultaneously)
Once cooled down, with the help of a blender,  blend the dal with little water,  to a medium consistency or desired consistency.  Keep it aside.
Heat ghee in a pan on a medium flame.  Add mustard seeds and allow it splutter.  Once the seeds stops spluttering, add jeera and methi seeds and stir fry till they turn golden brown.
Add green chillies, grated ginger and saute for 25-30 seconds  on a low flame.
Add chopped tomatoes and cook till the tomatoes become soft.  Now add the boiled peanuts and blended dal and mix. well.
Add red chilli powder, jaggery and salt and stir well.  Simmer the dal on a medium flame for 2 to 3 minutes.  If required, here you can add little water and adjust the consistency of the dal.  The khatti meethi (sweet and sour) dal is now ready to be served.
Garnish the dal with chopped coriander leaves and serve hot with steamed rice and phulka.
NOTES/TIPS
Instead of tomatoes, you can also add lemon juice at the end, after switching off the flame.  Tomatoes or lemon juice – gives a  tangy taste to the dal and balances the sweetness of the jaggery.
Soak the toor dal for half an hour, as it reduces the cooking time.
You can also garnish the dal with grated coconut alongwith chopped coriander leaves.
Cooking the dal with ghee gives a great flavour.