Instant wheat flour appam recipe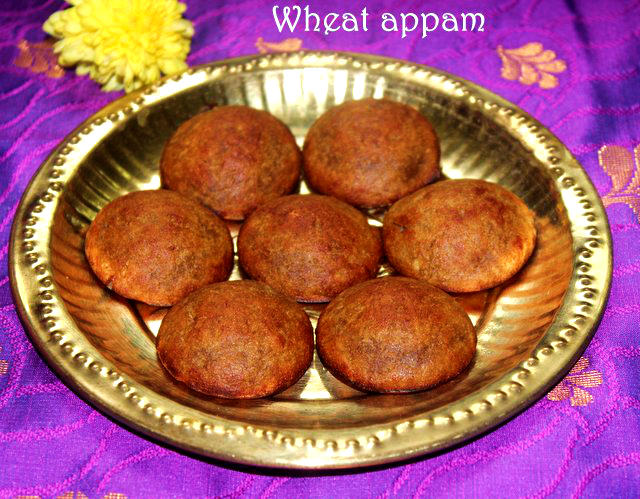 Instant wheat flour appams are very easy to make and can be prepared quickly with the ingredients easily available at home. They do not require any soaking rice or grinding like the traditional nei appams. These wheat appams are prepared especially during festivals like Gokulashtami, Ganesh Chaturthi and Karthigai deepam. Traditionally they are deep fried, but can also be made in paniyaram pan.  These sweet appams be eaten as a  healthy snack too.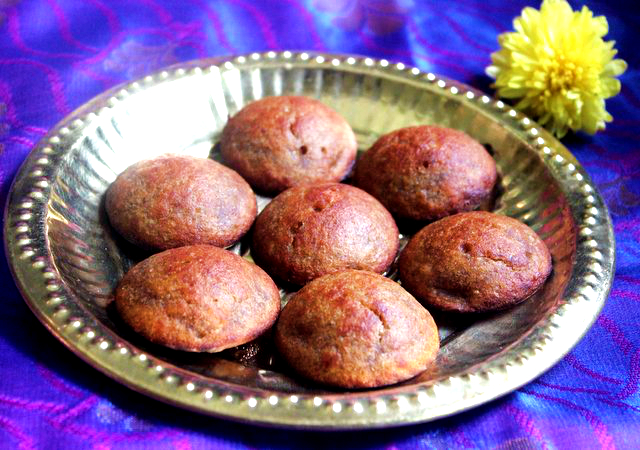 Prep Time :  10 mins
Cook Time : 15  mins
Yield :  10 appams
South Indian cuisine
INGREDIENTS
Wheat flour – 1/2 cup
Jaggery – 1/3 cup
Rice flour – 2 teaspoons
Banana – 1 small sized
Cardamom powder – 1/4 teaspoon
Salt – a pinch
Cooking soda – a pinch
Grated coconut – 2 tablespoons
Ghee for greasing the paniyaram pan
HOW TO MAKE OR PREPARE INSTANT WHEAT FLOUR APPAM RECIPE
Heat a pan on a low flame.  Add jaggery and few tablespoons of water and melt it.  Once the jaggery is fully dissolved, switch off the flame.  Filter the jaggery mixture with the help of a strainer and keep it aside.
Mash the banana well by hand and set aside.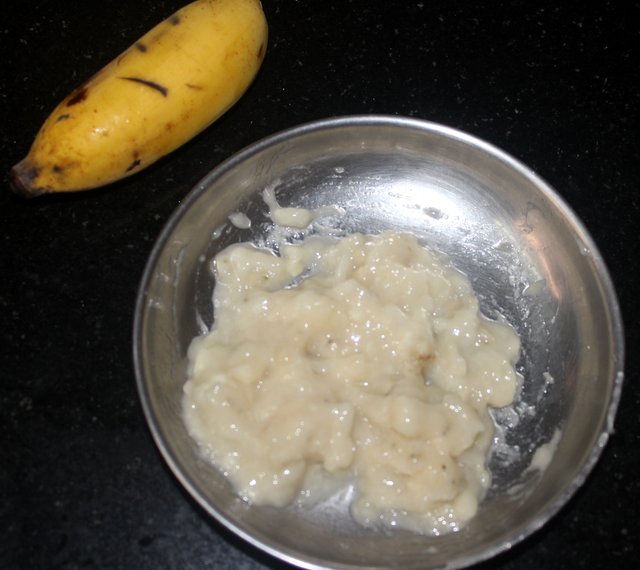 In a mixing bowl, add wheat flour, rice flour, salt, cooking soda, cardamom powder, grated coconut and mashed bananas and mix well.
Lastly add jaggery water and mix well.  Add water if required and whisk well.  Bring the batter to a semi solid idli batter consistency.
Heat a paniyaram pan and apply ghee in all the holes.Pour the batter in each hole to 3/4 of the hole capacity.
Reduce the heat and cook covered with a lid.  When the edges start to loosen, gently flip it to the other side.  Cook uncovered till it becomes golden brown.  Once both the sides are cooked, transfer the appams to a serving plate.
Delicious and soft sweet appams are now ready to be served.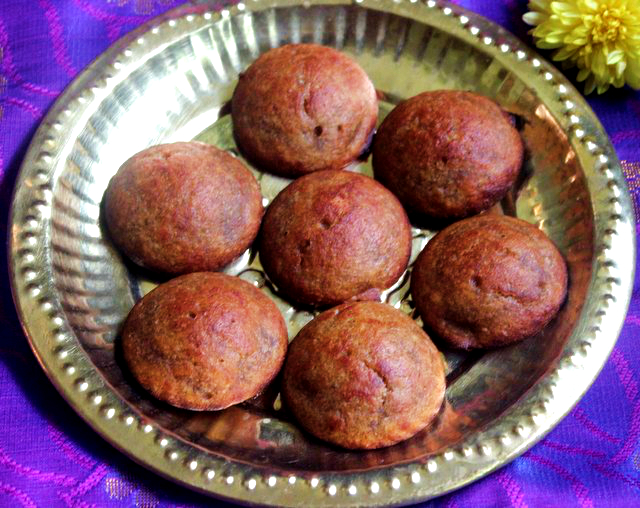 NOTES/TIPS
A ripened banana when added,  gives a nice flavour and spongy texture to the appams.
If you are using organic jaggery, no need to strain the jaggery water.  For other jaggery,  I prefer filtering to remove impurities, if any.
Rice flour give little crispiness to the appams.
You can also make appams with maida, jaggery and banana.  They too turn out smooth and spongy.
Instead of ghee, you can also use oil to grease the pan.