Mangalore southekayi sambar recipe – How to make Mangalore cucumber sambar recipe – sambar recipes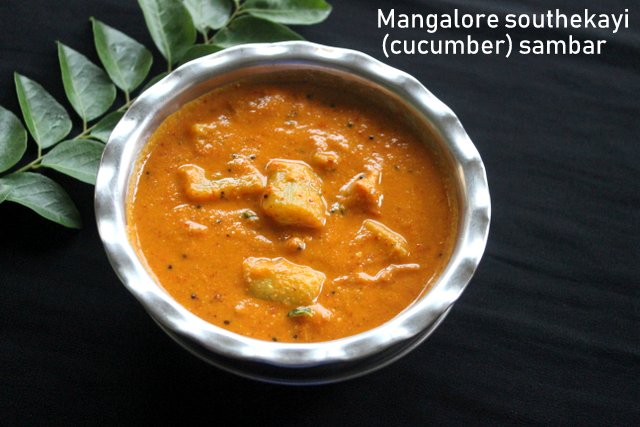 Mangalore southekayi (cucumber) sambar is a very tasty and easy sambar made with cucumber, coconut and spices.  It is made without tamarind and tur dal which is normally used for making sambar.  Instead here tomatoes are used to give a tangy taste to the sambar.  Coconut gives the sambar a rich taste and thickness to the sambar.  It is a traditional sambar recipe which is prepared especially during festive occasions.  Mangalore southekayi huli (sambar) is a speciality from the Mangalore and Udupi regions of Karnataka.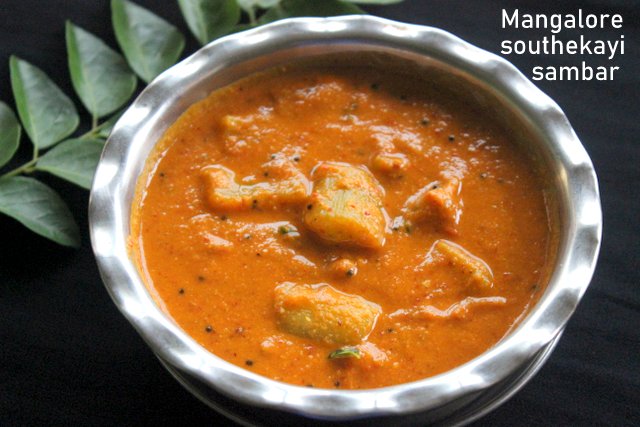 Prep Time :  10 mins
Cook Time : 20 mins
Servings : 4 persons
South Indian cuisine
INGREDIENTS
Cucumber – 1 (peeled and chopped into medium pieces)
Turmeric powder – 1/4 teaspoon
Jaggery powder – 2 tablespoons
Salt to taste
TO BE GROUND TO A FINE PASTE
Red chillies – 5 (byadgi chillies)
Coriander seeds – 2 tablespoons
Poppy seeds – 1 teaspoon
Roasted chana dal (chatni dal) – 2 tablespoons
Cumin seeds (jeera) – 1 teaspoon
A pinch of asafoetida or hing
Grated coconut – 3/4 cup
Tomato – 1 (chopped)
FOR SEASONING/TEMPERING
Oil – 1 tablespoon
Mustard seeds or rai – 1/2 teaspoon
Few curry leaves
HOW TO MAKE OR PREPARE MANGALORE CUCUMBER SAMBAR RECIPE
Boil the cucumber pieces with enough water till they are well cooked.  Do not make it too mushy or soft. In a mixer grinder, grind coriander seeds, cumin seeds, poppy seeds, roasted chana dal, red chillies and hing.
Once the fine powder is done, add tomatoes and coconut to it.
Add very little water and grind to a fine paste.  Keep the ground mixture aside.  Once the cucumber is cooked, add turmeric powder, jaggery powder and salt.  Mix it well.
Cook on a low flame.  Add the ground masala and mix it again.
Cook on a medium flame for 3-4 minutes.  Add water and adjust the consistency.  Keep stirring in between.  Heat oil in a pan or small kadai.  Add mustards seeds and allow it to splutter.  Add curry leaves and pour this seasoning to the sambar and mix well.
Delicious mangalore cucumber sambar is ready to be served.  Serve this sambar with rice and ghee, idli or dosa.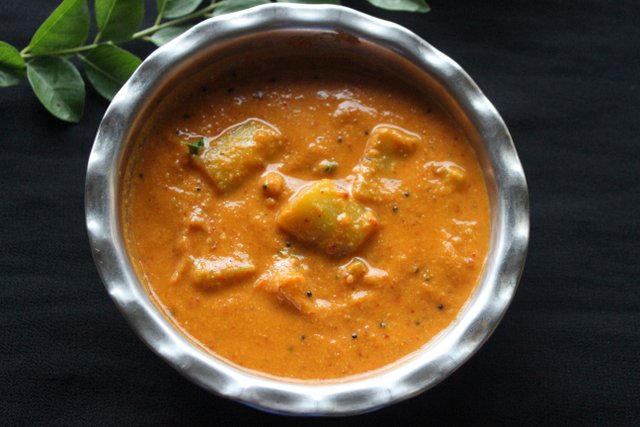 NOTES/TIPS
Byadgi chillies gives a nice colour to the sambar.
You can also use red pumpkin instead of cucumber for this sambar recipe.