Palak paneer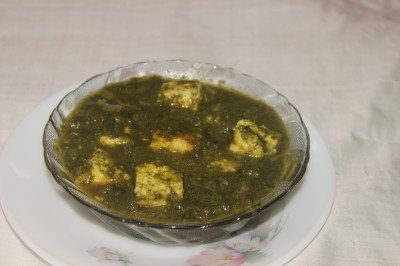 Palak paneer is a popular North Indian dish made with spinach and cottage cheese.  A good combination of rich and healthy food and perfect accompaniment for rotis, naans and pulao.
Ingredients
Spinach/palak leaves - 1 medium bunch (blanched and pureed)
Cottage cheese/paneer - 15 pieces
Onion - 1 (chopped finely)
Tomatoes - 2 (blanched and pureed)
Green chillies - 2
Garlic cloves - 4
Ginger - 1 inch small piece (peeled)
Red chilli powder - 1/2 teaspoon
Garam masala powder - 1/2 teaspoon
Salt to taste
Cumin seeds - 1/2 teaspoon
Milk - 1/4 cup
Cooking oil
Method
Step 1
Remove the stem from spinach and wash the spinach leaves thoroughly.
Step 2
Boil sufficient water in a vessel. When it reaches the boiling point, switch off the flame. Add spinach leaves and a pinch of sugar and close the vessel with a lid. Adding sugar helps in retaining the green colour of spinach
Step 3
Drain the water after 10 minutes. Grind the spinach alongwith green chillies, garlic and ginger to a smooth paste and keep aside
Step 4
Blanch the tomatoes. Puree them and keep aside.
Step 5
Dice the paneer into small cubes. Heat oil in a pan. Add the paneer pieces and shallow fry till light brown. Drain and set aside.
Step 6
In the same pan, add cumin seeds. When the seeds crackle, add chopped onions and saute till light brown.
Step 7
Add spinach paste and mix well and cook for 3 to 4 minutes on a low flame.
Step 8
Add tomato puree, red chilli powder, salt and garam masala powder and mix well. Let it simmer for 2 to 3 minutes.
Step 9
Add milk and fried paneer pieces and stir lightly. Simmer for a couple of minutes or till it reaches a thick consistency.
Step 10
Serve hot with rotis, naans or pulao.