Poha dosa or aval dosa recipe – how to make soft and spongy poha dosa recipe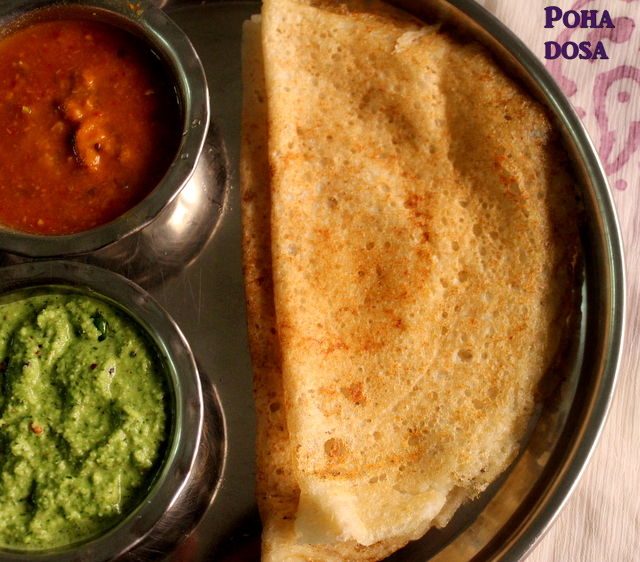 Poha dosa also called as atukula dosa is a Andhra speciality and is very soft and spongy in texture.  These sponge dosas are easy to make too and are very delicious in taste.  Dosas are a  very popular south indian breakfast dish.  Aval dosa is a different variation of dosa where aval/poha  is added to the dosa batter to give super soft and spongy dosas which literally melts in your mouth.  Poha dosas are not crispy dosas but they are soft dosas.  Sambar or any chutney is the best accompaniment for these poha dosas.
If you are looking for dosa recipes, also check raw banana dosa, onion rava dosa, moong dal dosa, bread dosa, brown rice dosa, tomato dosa.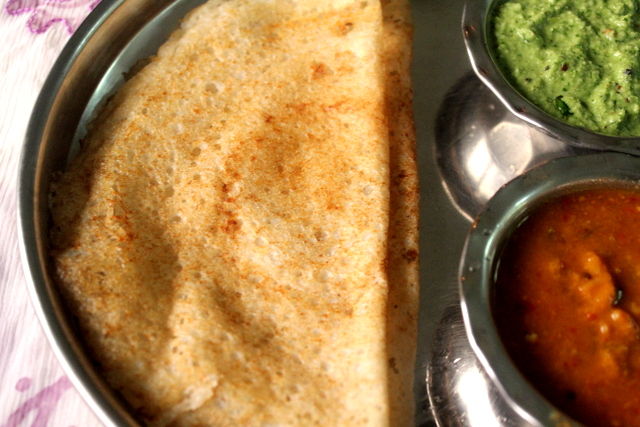 Prep Time :  10 mins plus soaking and fermentation time (9-10 hours)
Cook Time : 4-5  mins per dosa
Servings :  2-3 persons
INGREDIENTS
Regular rice  – 1 cup
Poha or flattened rice – 1 cup
Urad dal – 1/4 cup
Curd or yoghurt – 1 cup
Salt to taste
Oil for making dosas
HOW TO MAKE SOFT AND SPONGY POHA DOSA RECIPE
Wash and soak the rice and urad dal in water for  4-5 hours.
Soak poha in 1 cup of curd for 1 hour.
Grind the raw rice, urad dal and poha together with the curd or little water to make a smooth batter.
Add salt to the ground batter and ferment for 5-6 hours.
Heat a tava or a griddle.  Add few drops of oil and grease the tawa with the oil.  Pour a ladleful of batter  in the center of the tawa and spread to a round little thick circle.  Add oil on the edges of the dosa and cook for 1-2 minutes on a medium flame.  Once cooked, flip on the other side and cook till done.
Serve poha dosa hot with sambar, green chutney or coconut chutney.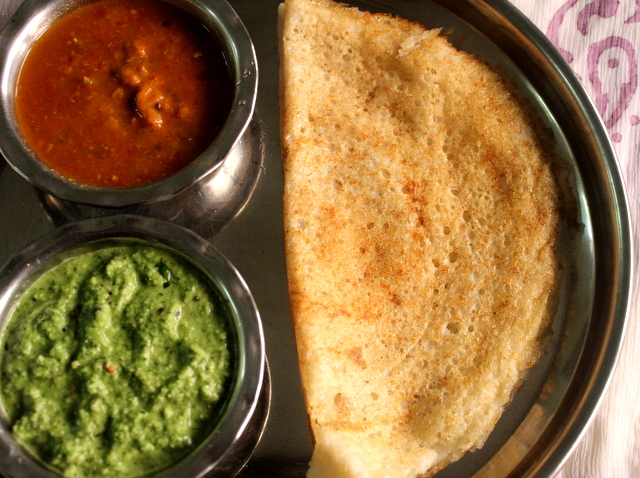 NOTES/TIPS
Traditionally, the dosa is covered with a lid for upto 2 minutes till the base is cooked and the top surface of the dosa becomes soft and spongy.  When the edges start lifting, just remove the dosa and serve immediately.  (but I prefer cooking on both the sides)
You can add baking soda to make it more fluffy.  I did not add as the dosas turned out soft, even without  adding the soda.