Instant bread medu vada recipe – How to make instant bread medu vada recipe – Indian snacks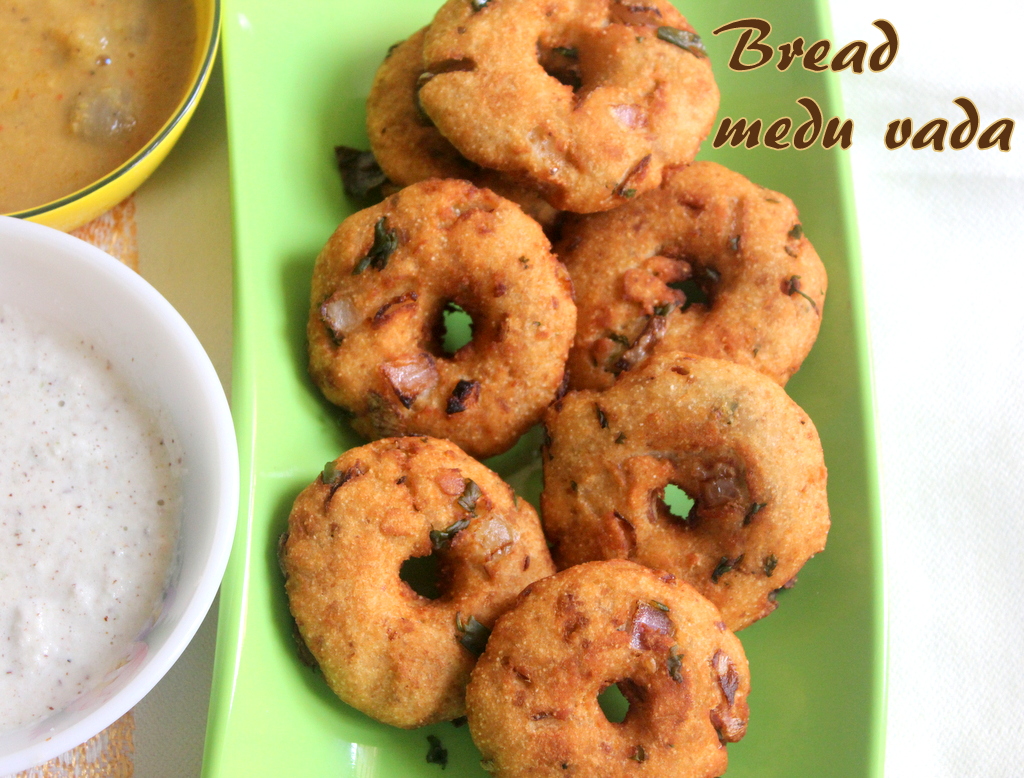 Instant bread medu vada is a very tasty vada made from bread slices, rice flour, rava and mild spices.  This is a easy and quick snack recipe which can be had as a breakfast dish or as a light snack or as a starter.  It is a light snack as it absorbs less oil.  It is an instant medu vada as it does not require soaking and grinding of dals and can be prepared in less than 30 minutes.  Do try this simple but tempting snack  and enjoy!!
Other bread recipes :
1. Spicy sprouts bread sandwich
http://charuscuisine.com/spicy-sprouts-bread-sandwich-healthy-breakfast-recipe/
2. Instant bread dosa
http://charuscuisine.com/how-to-make-instant-bread-dosa-recipe-easy-breakfast-recipe/
3. Instant bread uthapam
http://charuscuisine.com/instant-bread-uttapamuthapam-recipe-breakfast-recipe/
4 Bread rolls
http://charuscuisine.com/bread-rolls-recipe/
5. Bread upma
http://charuscuisine.com/bread-upma/
6. Cheese bread pakoras
http://charuscuisine.com/cheese-bread-pakora/
7. Shahi bread tukra
http://charuscuisine.com/quick-shahi-tukda-or-tukra-recipe-or-indian-bread-pudding-recipe/
8. Bread masala
http://charuscuisine.com/bread-masala-recipe/
9. Grilled vegetable sandwich
http://charuscuisine.com/grilled-vegetable-sandwich-recipe/
10. Toasty paneer sandwich
http://charuscuisine.com/toasty-paneer-cottage-cheese-sandwich-recipe/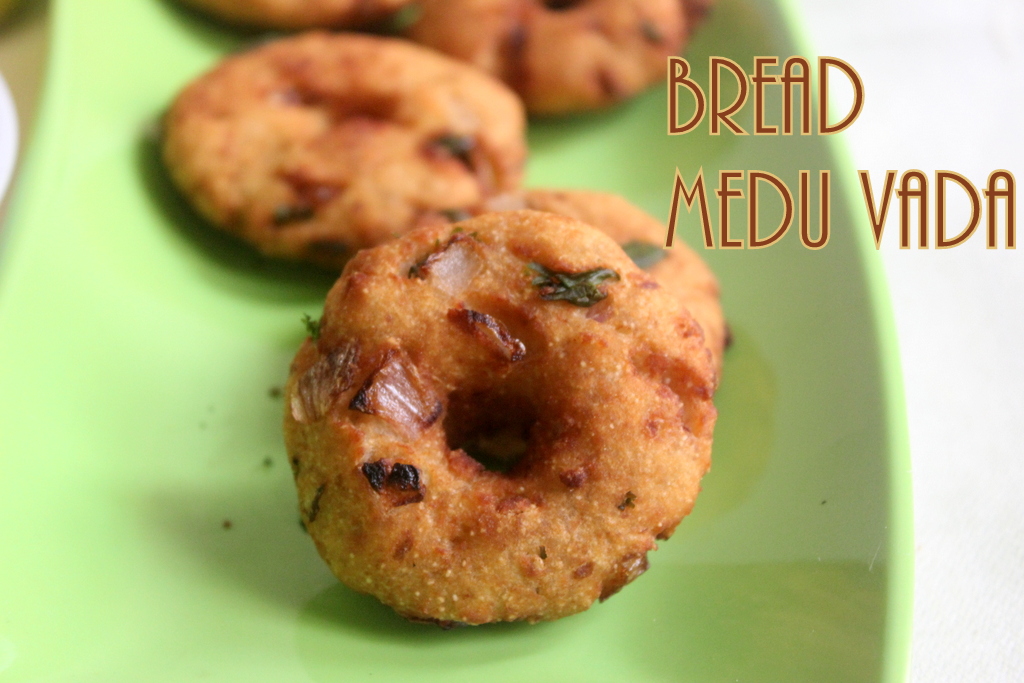 Prep Time : 10 mins
Cook Time : 15 mins
Yield:  10 vadas
South Indian cuisine
INGREDIENTS
Bread slices – 6
Rice flour – 1/2 cup
Rava or semolina or suji – 1/4 cup
Curd/Yoghurt – 1/2 cup
Cumin seeds/jeera – 1/4 teaspoon
Ginger – 1 inch (finely chopped or grated)
Onion – 1 (small sized chopped finely)
Green chillies – 2 (chopped finely)
Few coriander leaves chopped finely
Salt to taste
Cooking oil for deep-frying
HOW TO MAKE OR PREPARE INSTANT BREAD MEDU VADA RECIPE
Take the bread slices in a large mixing bowl and crumble them into small pieces.  Then add rice flour, rava, curd, chopped onions, coriander leaves, grated ginger, cumin seeds, green chillies and salt.
Mix all the ingredients well and form a soft dough.  If necessary, add little curd if the dough is too dry.  Divide the dough into equal portions to a lemon sized ball.    Take a one small ball and gently flatten them a bit.  If required, grease your palm with little oil to avoid stickiness.  Make a small hole in centre of the vada.  Repeat with the rest of the dough.
Heat sufficient oil in a heavy bottomed pan or kadai.  Once the oil becomes hot, gently slide the vadas and deep fry them on medium flame till golden brown on both the sides.
Drain them on an absorbent paper to remove excess oil.
Serve instant bread medu vada hot with coconut chutney or sambar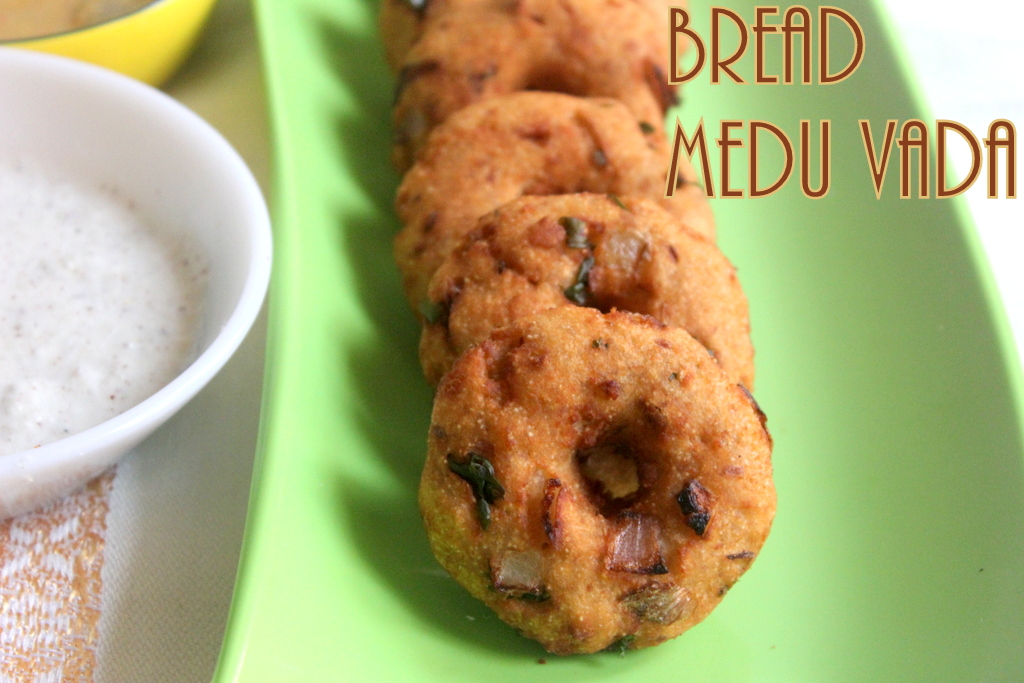 NOTES/TIPS
Use bread of any variety like brown bread, multigrain bread,  white bread or leftover bread.
You can add a pinch of baking soda for making it more fluffy.
Add vegetables of your choice like grated carrot or capsicum for a healthier version.
You can also add black pepper or small coconut pieces for more flavour.
If the batter becomes watery, add more rice flour and rava and knead to a soft dough.