Bendekai palya or bhindi fry or okra subzi recipe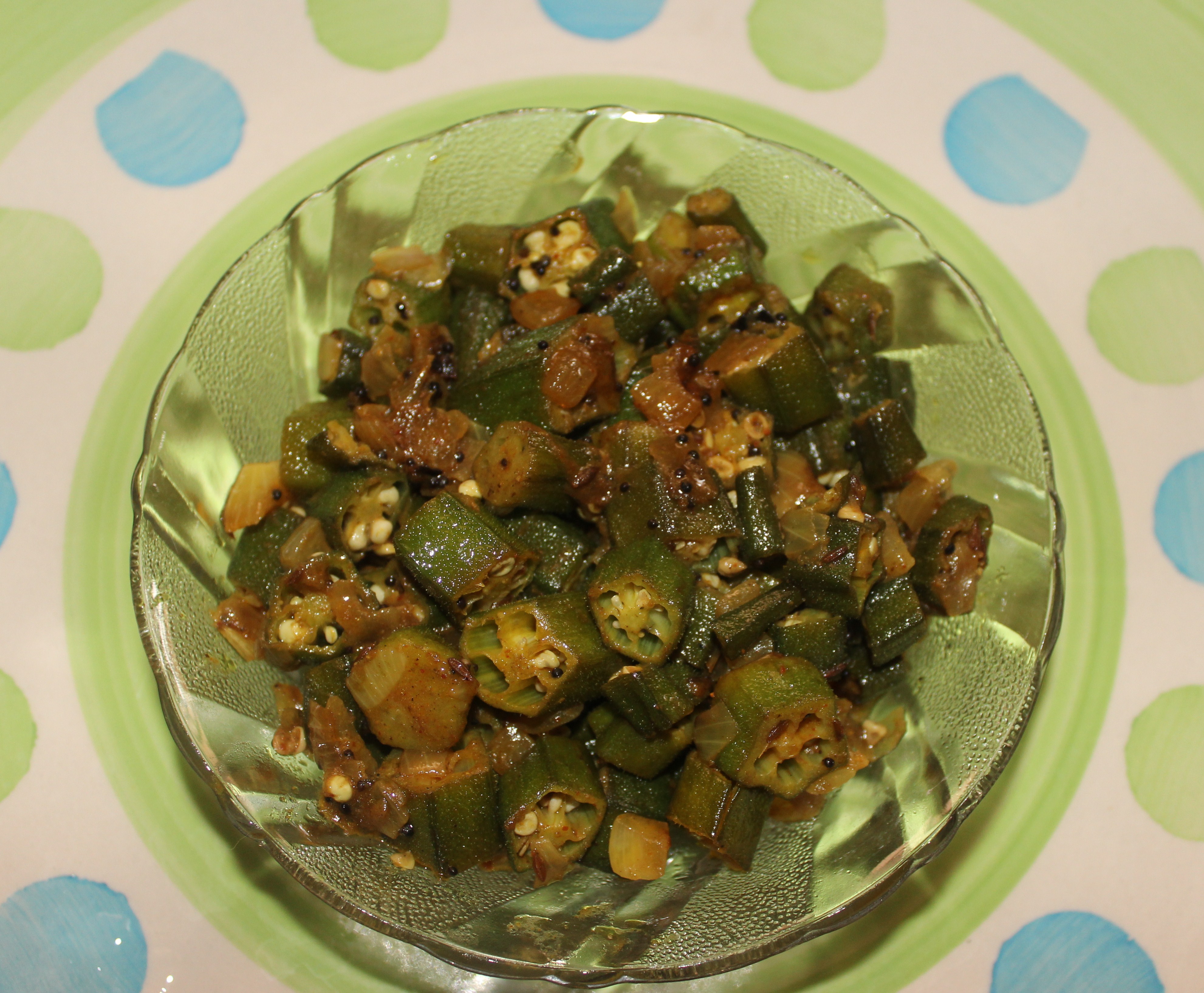 Lady finger or bhindi fry is a simple and easy to make side dish which goes well with rotis as well as rice. Amchoor powder add a unique flavor to this preparation.
Ingredients
Lady finger/Okra - 500 gms
Onions - 2 (finely chopped)
Oil - 4 tablespoons
Mustard seeds - 1/2 teaspoon
Cumin seeds - 1/2 teaspoon
Coriander powder - 1 teaspoon
Amchoor powder - 1/4 teaspoon
Red chilli powder - 1 teaspoon
Turmeric powder - 1/4 teaspoon
Salt to taste
Method
Step 1
HOW TO MAKE LADY FINGER OR BHINDI FRY RECIPE Wipe the lady finger dry and cut the edges. Dice them into 1/2 inch long slices.
Step 2
Heat 2 tablespoons of oil in a kadai. Stir fry the ladies finger till crisp and light brown. Set aside.
Step 3
Heat another 2 tablespoons of oil in the same kadai. Add mustard seeds, cumin seeds and fry for a minute. Add chopped onions and fry till they become translucent.
Step 4
Add the fried lady finger, red chilli powder, coriander powder and turmeric powder. Mix well and cook for few minutes on a medium flame till the spices gets blended with the vegetable.
Step 5
Once cooked, add salt and amchoor powder and heat for a minute. Remove from heat
Step 6
Serve bhindi fry or bendekai palya with rotis or rice.
Step 7
Note: Add salt at the end otherwise the vegetable tends to become very slimy. Wipe with a clean cloth and ensure no trace of moisture is left before dicing the vegetable.