Milk kesari recipe – How to make milk kesari (paal kesari) recipe – Indian sweet dishes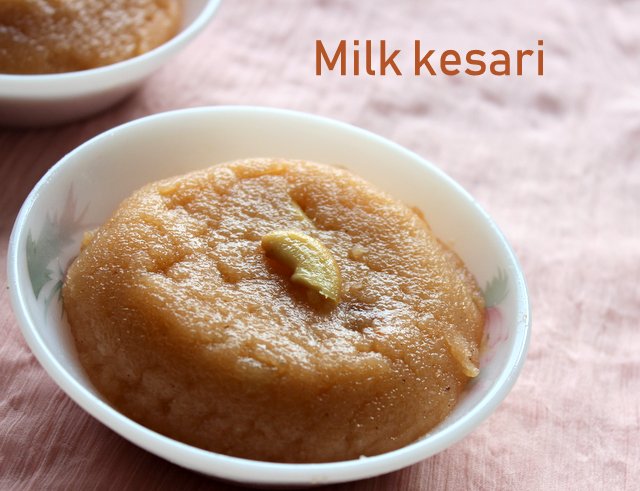 Milk kesari is one of the popular south indian sweet dish, which is prepared during festivals and other special occasions.  It is also called as paal kesari (paal means mik in tamil) in Tamil Nadu.  Traditionally kesari is made with semolina, water, sugar and nuts.  In this recipe,  instead of water, milk is used to prepare the kesari.  Kesari also called as sooji halwa, is very easy to make with few ingredients easily available at home.  Since this kesari is made with milk,  its shelf life is reduced and has to be refrigerated at the end of the day.  It stays good for 2-3 days if refrigerated.  You can just warm the kesari in a microwave before serving.
Other kesari recipes..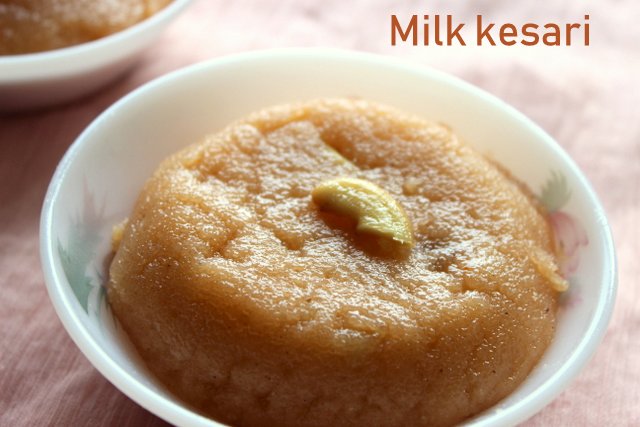 Prep Time : 10  mins
Cook Time : 15 mins
Servings :  2 to 3 persons
South Indian cuisine
INGREDIENTS
Semolina or rava – 1/2 cup
Sugar – 1/2 cup
Milk – 3 cups
Ghee – 4 tablespoons
Orange food colour – a small pinch
Cardamom powder – 1/4 teaspoon
Cashewnuts – 5
Raisins – 5
HOW TO MAKE OR PREPARE MILK KESARI RECIPE
Add 2 tablespoons of ghee to a pan and add cashewnuts and roast till light golden brown in colour.  Add raisins and stir till it gets puffed up.   To the same pan, add the semolina and stir well on a low flame.  Roast the rava till you get a nice aroma and the raw smell goes away.  Do not change the color of the rava.  Set the roasted rava and the nuts aside.
Add milk to the pan and boil on a medium flame. Once it comes to a full boil, lower the flame.  Add the roasted rava and the nuts, little by little, and mix well.
Add the food colour and give a good mix.  Keep stirring continuously on a low flame. Ensure there are no lumps in the mixture.
Once the rava is cooked well and begins to thicken, add sugar and mix well.  The mixture will become slightly watery.  Keep cooking on a low flame.
Once the mixture reaches a thick consistency and sugar is fully absorbed, add cardamom powder and 2 tablespoons of ghee and give a quick stir.  Delicious milk kesari is ready to be served.  Serve milk kesari hot or warm.
NOTES/TIPS
Here I have added orange food color to give a nice bright colour to the dish.  But you can also add saffron strings to the kesari to give color as well as flavor.
Kesari tastes good when served hot or warm.  But if you have excess, you can refrigerate it, as it stays good for upto 2 days.
It is better to add sugar only after the rava is fully cooked.
When the mixture is still warm,  pour them in a tray and press lightly with a spatula.  Slice them into square or diamond pieces and serve as a barfi.
Adjust sugar and ghee according to your taste or as desired by you.