Shrikand recipe – How to make kesar elaichi shrikand recipe – Maharashtrian recipes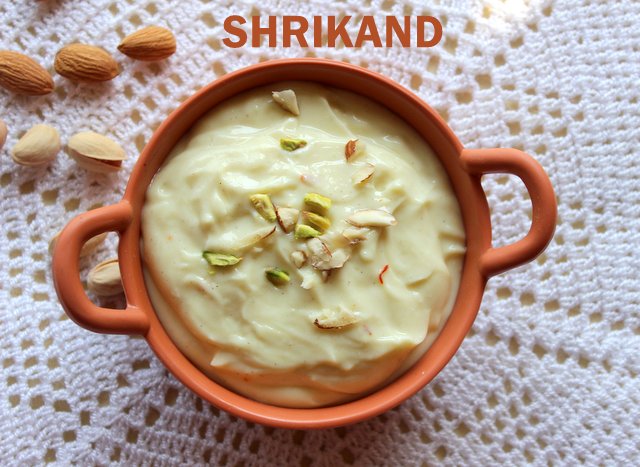 Shrikand is a very popular sweet dish in Maharashtra and Gujarat and is best served with puris or as a dessert. Shrikand is made especially during summers and is very simple to make too. The sugar is well blended with hung curd and flavoured with nuts, saffron strings and cardamom powder.  If you prefer fruit flavoured shrikand, you can just add mango puree or mango pulp to the hung curd and make amrakhand or mango shrikand. You can use seasonal fruits like custard apple or strawberry and make a fruit based shrikand.  Shrikand is a  very traditional yoghurt based dessert and prepared especially during festivals or special occasions and is best had with pooris.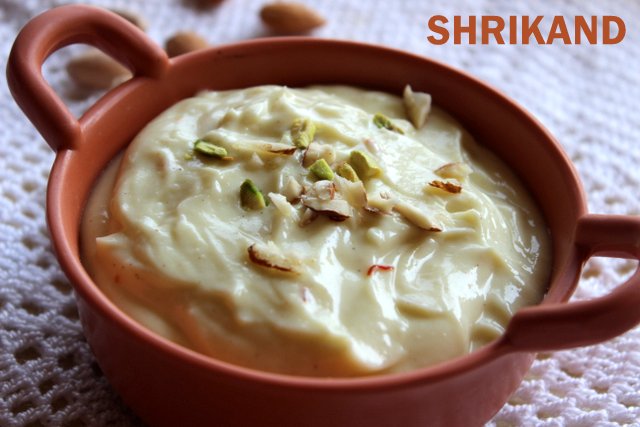 Prep Time : 20 mins
Servings : 4 to 5 persons
Maharashtrian cuisine
INGREDIENTS
Full fat yoghurt or curd – 1 litre (approx. 4 cups of curd)
Powdered sugar – 1/2 cup or add as required
Cardamom powder – 1/2 teaspoon
Warm milk – 2 tablespoons
Saffron strings – 1 large pinch
Almonds – 10  (crushed or chopped into small pieces)
Pistachios – 10 (chopped into small pieces)
HOW TO MAKE OR PREPARE SHRIKAND RECIPE
Take a deep bowl or vessel and place the strainer on it.  Line a thin cotton cloth or muslin cloth on the strainer.
Pour the curd on the thin cloth and tie it tightly around the neck of the cloth. Gently press to remove the whey from the curd.  Hang it overnight or for 6-7 hours to remove or drain all the water from the yoghurt.  Alternatively, you can place the bowl inside the refrigerator overnight and place a heavy bowl on the tied muslin cloth, to remove the excess whey from the curd.
Next day, the hung curd will be set nicely and whey will be drained completely.  You can use this whey which is very nutritious, for making chapatis, dals or kadhis.  Take 2 tablespoons of warm milk in a small bowl.  Add the saffron strings and mix well.  Keep it aside for 15-20 minutes.
Remove the hung yoghurt in a bowl.  Add the powdered sugar, saffron dissolved milk and cardamom powder.  Mix well.
Blend the hung curd well with the help of a whisker or an electric blender.  If you are using hand whisker,  whisk well for 5-6 minutes till you get a smooth texture and the sugar is well dissolved.  Check for sugar and add here, if required and blend again.  Chill the shrikand in the refrigerator and serve when required. Garnish with chopped almonds and pistachios and serve chilled.  Shrikand is best served with pooris or chapathis.
NOTES/TIPS
Use fresh full fat creamy curd or dahi for better taste.  Ensure that the fresh curd is not sour.
Add nuts of your choice to further enhance the taste.
If you prefer fruit based shrikand, add the puree or the fruit pulp to the hung curd and blend well.
Ensure to blend or whisk the hung curd well to get a smooth shrikand.
Add sugar as per your taste.