Fruit custard recipe – How to make fruit custard recipe – Fruit salad with custard recipe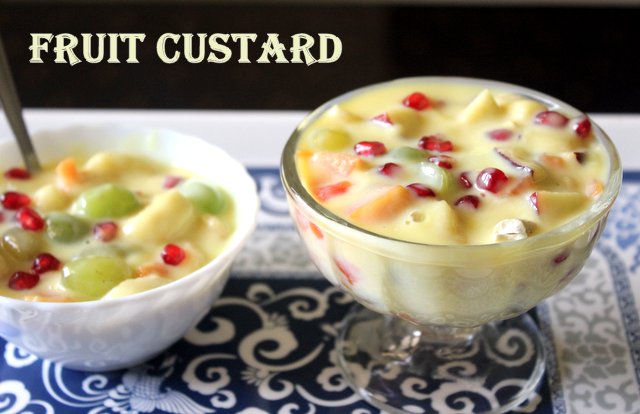 Fruit custard is a very simple  but delicious and healthy Indian dessert made with mixed fruits and milk-custard mixture.  A very easy to make dessert recipe,  fruit custard is loved by all elders and kids alike.  It is a delicious mix of fresh mixed fruits soaked in creamy custard sauce.  You can make this fruit salad with any combination of fruits and custard powder.  This dessert comes handy when you have lot of fruits at home and unexpected guests.   It is also a nice way to include fruits in your diet.  Fruit custard is best served chilled as it gives a good soothing feeling.
Prep Time :  15 mins
Cook Time : 10 mins
Servings : 2 persons
Indian cuisine
INGREDIENTS
Milk – 2 cups
Sugar – 4 tablespoons
Custard powder – 2 tablespoons
Chopped fruits – 2 cups
Milk – 2 tablespoons (at room temperature)
Chopped cashewnuts and raisins – 1 tablespoon (optional)
HOW TO MAKE OR PREPARE FRUIT CUSTARD RECIPE
Heat 2 cups of milk in a pan or vessel on medium heat. Add sugar and continue stirring so that the sugar is dissolved well.   Mix the custard powder in 2 tablespoons of milk  in a small bowl, to make a smooth paste.  Ensure there are no lumps in it.
Now add this custard mixture to the boiling milk and keep on stirring.  Cook on a low flame till the  milk begins to thicken.
Once the milk reaches a desired  consistency or medium consistency, switch off the flame.  Allow it to cool down completely.
Chop the fruits and keep it ready.  Take a serving bowl and add the mixed fruits and nuts.
Pour the milk-custard mixture over it and mix well.  Chill in the refrigerator for half an hour.
NOTES/TIPS
You can use seasonal fruits available during the season. I used pomegranate, papaya, apple, grapes, banana, cashewnuts and raisins.
The more fresh fruits used, gives a better taste to the fruit custard.
You can use custard powder of your own desired flavour.  If you are using plain custard powder, you can add few drops of vanilla essence to enhance the flavour.
Do not make a very thick custard consistency, because on cooling the custard begins to thicken more.
You can also cool the milk custard in the refrigerator, once prepared.  Add the fruits to the milk custard at the time of serving and serve chilled.