Paneer pakora recipe – How to make paneer pakoda recipe – easy Indian snacks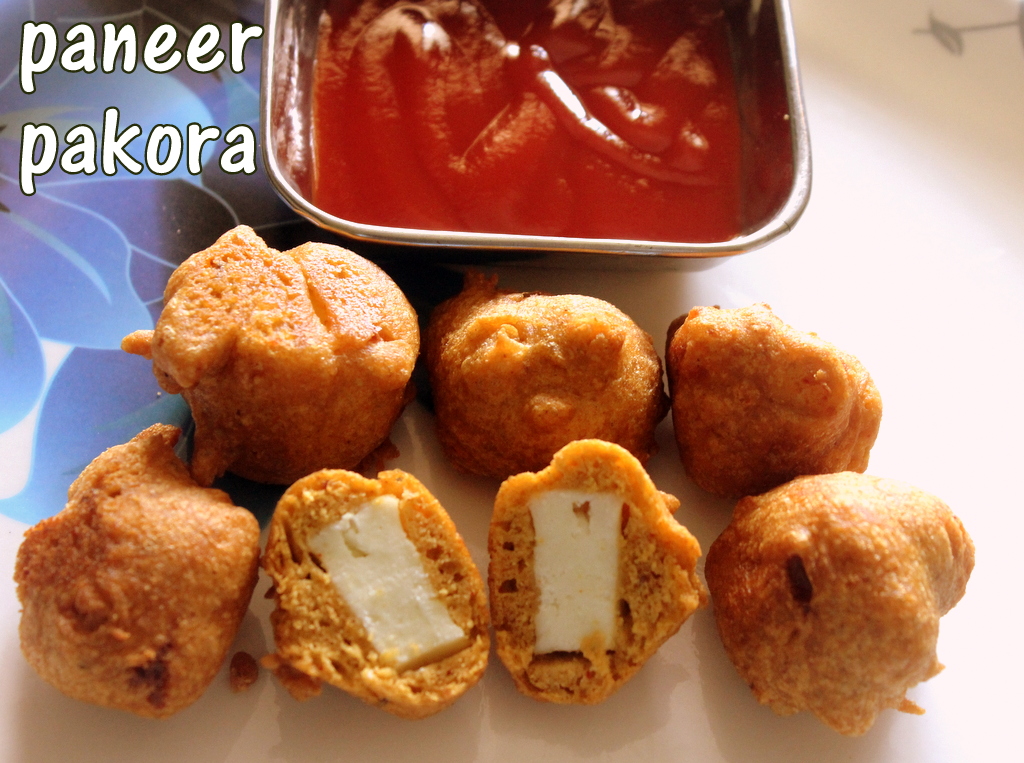 Paneer pakora is a popular Indian snack made with cottage cheese, gram flour and spices.  It is an ideal evening snack to be had with tea/coffee.  Paneer pieces are dipped in spiced batter and then deep fried to golden brown in colour.  It is a very simple yet delicious snack made with paneer. Paneer pakora is also a perfect starter and appetizer and an easy and quick snack recipe too.  Do try this yummy snack and enjoy!!
Other paneer snack recipes :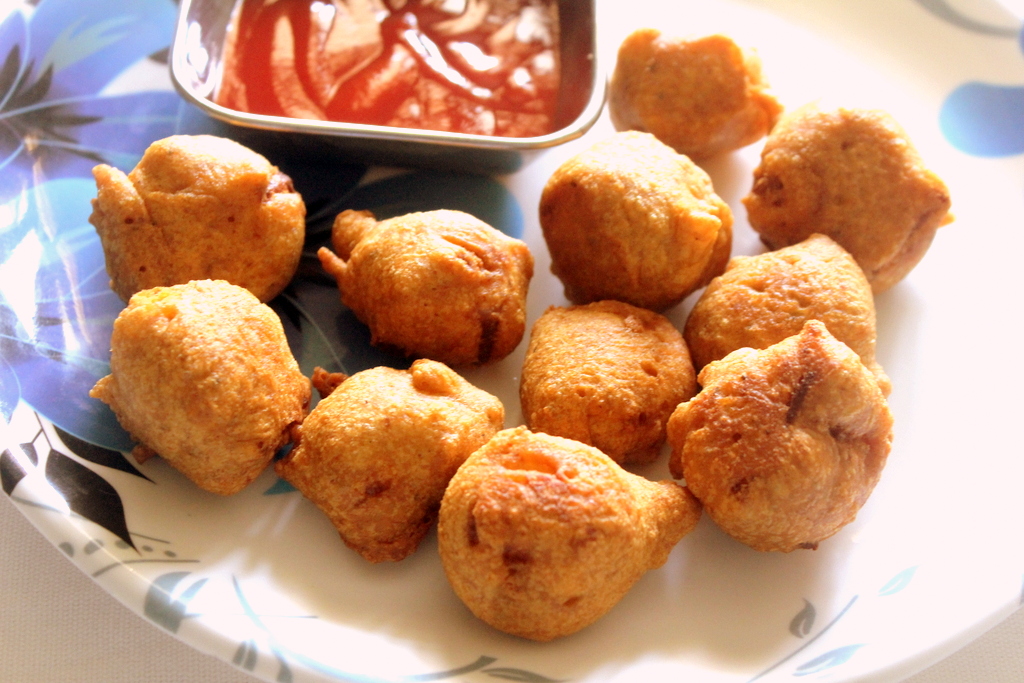 Prep Time :  10 mins
Cook Time : 15 mins
Servings :  4 persons
North Indian cuisine
INGREDIENTS
Paneer/cottage cheese – 200 gms
Besan/gram flour – 6 tablespoons
Rice flour – 1 teaspoon
Red chilli powder – 1/2 teaspoon
Ajwain/carom seeds – 1/2 teaspoon
Garam masala – 1/2 teaspoon
Coriander powder – 1/2 teaspoon (optional)
Amchoor (mango) powder – 1/2 teaspoon
Salt to taste
Cooking soda –  a small pinch
Oil for deep frying
Water as required
HOW TO MAKE OR PREPARE PANEER PAKORAS RECIPE
Slice/chop the paneer into small or medium sized cubes.  In a mixing bowl, add besan, rice flour, red chilli powder, garam masala, coriander powder, amchoor, salt, cooking soda, ajwain and 1 tablespoon of hot oil.  Mix well.
Add water little by little and make a slightly thicker consistency yet smooth flowing batter.  Ensure there are no lumps in the batter.  Dip the paneer pieces into the batter and coat them evenly from all the sides.
Heat sufficient oil in a kadai or heavy bottomed pan on medium flame.  Once the oil becomes hot, gently slide the coated paneer pieces into the oil and deep fry on both the sides till they become crisp and golden brown in colour.  Adjust the temperature of the oil from high to medium while frying them, so that it is cooked evenly.
Once fried, place the pakoras in an absorbent paper to remove excess oil.   Serve paneer pakoras hot with tomato ketchup or coriander chutney or red chutney.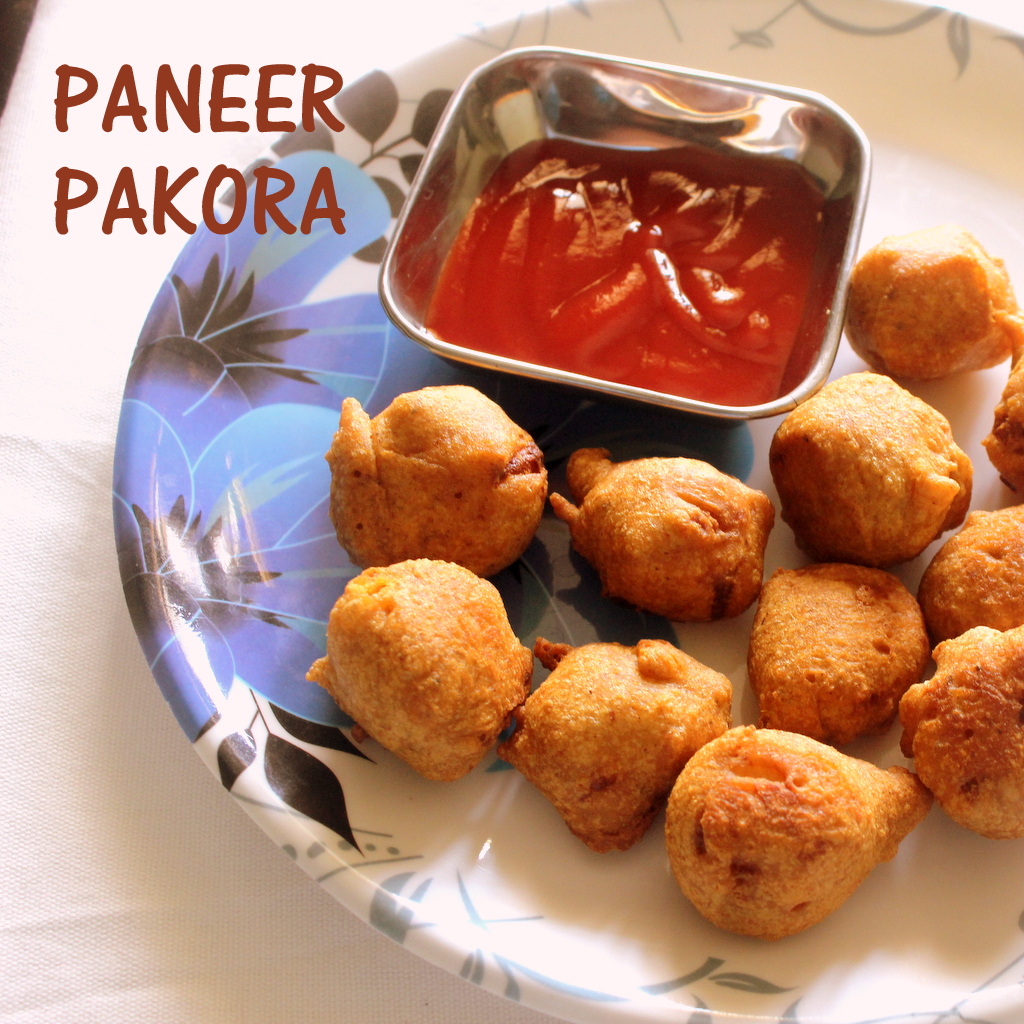 NOTES/TIPS
Adding hot oil to the batter helps  the pakoras to absorb less oil and makes the pakoras crispy.
You can also add chaat masala instead of amchoor powder.
Add black pepper powder instead of red chilli powder for extra spiciness.
The batter should be thick enough to coat the paneer pieces.
You can add green chilli paste in addition to red chilli powder for making it more spicy.