Spicy puffed rice/murmura chivda recipe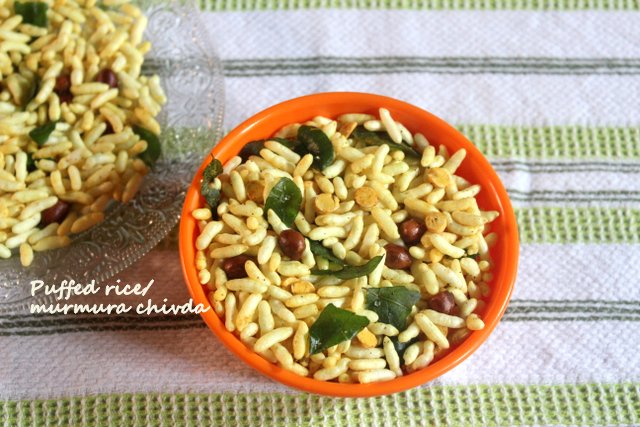 Spiced puffed rice or murmura chivda  recipe is a very healthy and delicious snack made from puffed rice, peanuts, roasted dal, curry leaves, red chilli powder, sugar and salt.  It is very easy and quick to make too and makes up for a tasty evening snack alongwith hot tea.  Spiced puffed rice chivda can also be eaten as low snack chivda as it is low on calories. This snack can be eaten at anytime of the day whenever you feel like munching light and spicy without having any guilt feeling.  It is also popularly called as sukha bhel or kara pori or  kurmura chivda.  It is a very simple and easy to make savory snack and if stored in an airtight container stays crisp and fresh for upto a week.  You can use this mixture/chivda for making instant bhel.  Just add chopped onions, tomatoes, coriander leaves and any chutney of your choice and instant bhel is ready to eat.  Do try this awesome recipe and enjoy.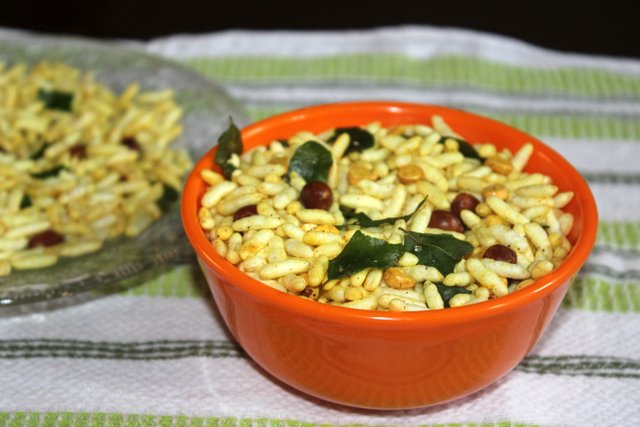 [div class="recipe-info"]
Prep Time : 10 mins
Cook Time :  15 mins
Total time : 25 mins
Low calorie/snack recipe
INGREDIENTS
Puffed rice / Kurmura / Murmura – 3 cups
Mustard seeds – 1/2 teaspoon
Cumin seeds (jeera) – 1/2 teaspoon
A pinch of asafoetida (hing)
A string of curry leaves
Peanuts/Groundnuts – 2 tablespoons
Roasted gram dal / chutney dal / dalia – 2 tablespoons
Red Chilli powder –  1/2 teaspoon
Turmeric powder – 1/4 teaspoon
Salt to taste
Sugar (optional)
Oil -2 tablespoons
HOW TO MAKE SPICY PUFFED RICE/ MURMURA CHIVDA RECIPE
Heat oil in a pan on a medium flame.  Add mustard seeds and once it stops spluttering, add cumin seeds and asafoetida and saute till cumin seeds turn light brown.
Then add peanuts and roast on a medium flame till they become crisp and golden brown.
Add chutney dal/dalia  and curry leaves and saute for a minute on a low flame. Keep stirring occasionally till the dal turns light crisp and brown.   Once the curry leaves and chutney dal become crisp, add  turmeric powder, red chilli powder, sugar and salt and mix well.
Now add puffed rice and combine together so that it is well mixed with the spices.  Cook on a low flame for 2-3 minutes till the puffed rice becomes slightly crisp.  Then switch off the flame.
Once the mixture is cooled down, store puffed rice chivda in an airtight container.
Enjoy this low calorie snack with a cup of hot tea.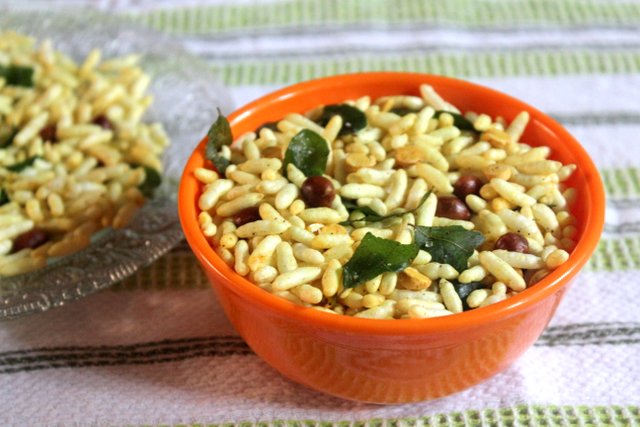 NOTE/TIPS
You can also add chopped onions and tomatoes and coriander leaves to the puffed rice/murmura chivda to further enhance the taste and enjoy as a evening snack.
Ensure that the puffed rice is fresh and crisp. Otherwise just dry roast them in a pan before making the chivda.
Adding turmeric powder gives a  nice color and look to the chivda.
You can add chopped garlic cloves to give a different and awesome taste to the chivda.