Avalakki or aval ladoo (poha ladoo) recipe – Janmashtami/Krishna Jayanthi recipes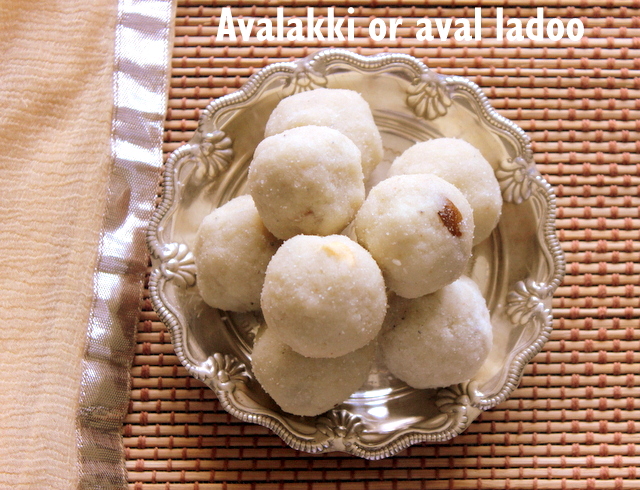 Avalakki or aval ladoo is a easy sweet recipe made from poha/flattened rice, sugar, ghee, nuts and raisins.  You can also make this ladoo with jaggery instead of sugar.  Both the ladoos are excellent tastewise and also quick to make.  I thought of posting this easy recipe for beginners as well as working woman, as I find this recipe not only quick to make but also an ideal sweet for Krishna Jayanthi..Do try making this simple but delicious ladoo for this Gokulashtami and enjoy !!
Other ladoo recipes :
Besan ladoo (microwave method)
Other poha recipes :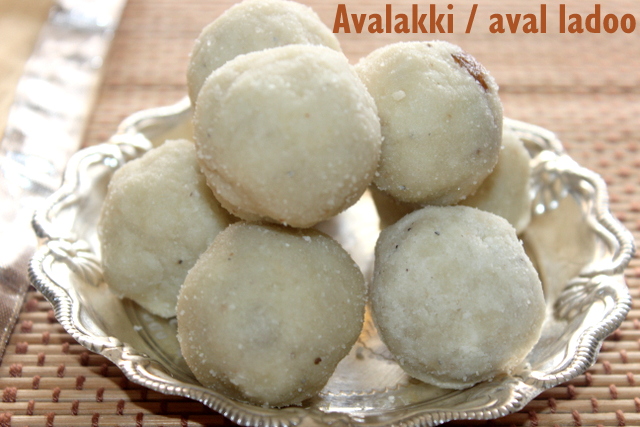 Prep Time :  10 mins
Cook Time : 15  mins
Yield :  8-9 ladoos
South Indian cuisine
INGREDIENTS
Avalakki/aval or flattened rice  – 1 cup (thick variety)
Sugar – 1/2 cup
Cardamoms or elaichi – 2
Ghee – 1/4 cup
Cashewnuts – 4
Raisins – 6
HOW TO MAKE OR PREPARE AVALAKKI OR AVAL LADOO RECIPE
Spread the poha on a clean cloth or plate.  Clean the poha and remove impurities/dirt if any.  Heat a pan on low flame and dry roast the poha for 3-4 minutes till you get a nice aroma and till they turn lightly crunchy.  Ensure not to change the colour of the poha.  Transfer it to a plate and allow it to cool down.  Once cooled down, grind it to a fine powder.  Keep it aside.
To the same grinder, add sugar and cardamoms and grind it to a smooth powder.
Heat 1 tablespoon of ghee in a pan and fry the cashewnuts till golden brown.  Then add raisins and fry till they puff up.  In a mixing bowl, add the powdered poha, powdered sugar-cardamom mixture, ghee and fried nuts and raisins.
Mix everything well and make ladoos out of it.
Delicious aval ladoos are now ready to be served to Lord Krishna as prasadam/neivedyam.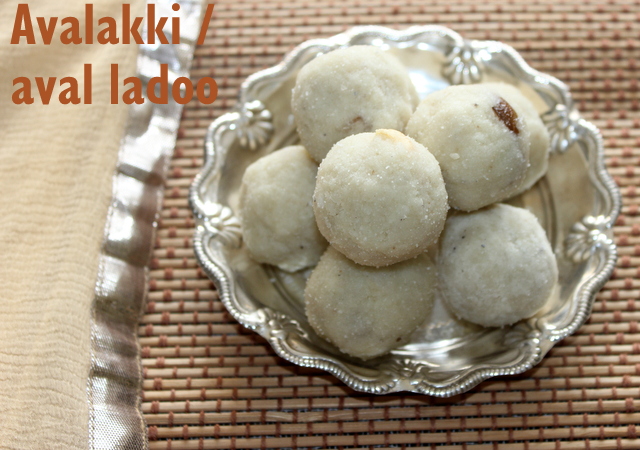 NOTES/TIPS
Melt the ghee and then add to the mixture.  It helps in making round and soft ladoos.
Adjust the sugar as per your taste.  But half cup of sugar was just perfect for me.
Ensure to roast the poha well to avoid raw taste.
Ladoos stays good for 4-5 days at room temperature, if stored in an airtight container.
You can also use little milk to bind the mixture along with the ghee and then form ladoos.  In that case, the shelf life is reduced and has to be consumed within a day or two.